(Established: March 1, 2004)
Medical and Dental Research Building is a unique facility in Hokkaido University that is managed jointly by two different departments: one medical and the other dental. Undergraduate and graduate students are educated here.
Department of Education and Practices
Anatomy Lab, Histology and Pathology Lab, Biochemistry and Microbiology Lab, Physiology and Pharmacology Lab, Lab of Forensic Medicine (Center for Cause of Death Investigation), Lab of Medical Informatics
Cell Biology Lab, Molecular Biology Lab, Ultramicroscopic Lab, Brain Science Lab, Biomaterial Lab
Department of Experimental Animals
Small Animal Rearing Room, Small Animal Procedure Room, Lizard Rearing Room, General Animal Laboratory
Rental Laboratory
The center was established for education and research on cause-of-death investigation* , the development and implementation of educational programs on human resource cultivation, and sharing knowledge on cause-of-death investigation and improvement in diagnostic technology in collaboration with relevant organizations in Hokkaido University and elsewhere.
* Cause-of-death investigation includes cause-of-death determination by forensic or pathological autopsy and postmortem imaging,personal identification by dental findings and the appropriate response to crimes, abuse and accidents based on clinical forensic medicine.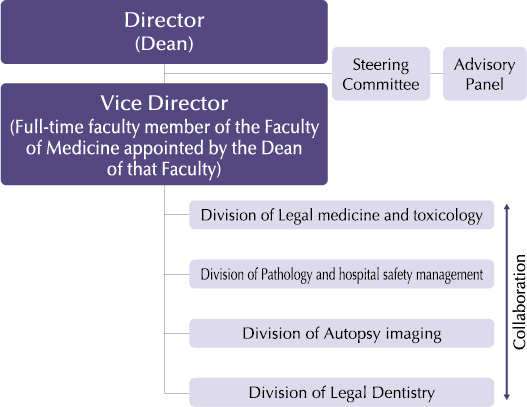 【Mission】
Implementation of forensic autopsies and body examinations and the fostering of autopsy practitioners and assistants
Postmortem diagnostic imaging and interpretation of images, and cause-of-death investigation using autopsy imaging
Cause-of-death investigation related to cases of death in hospitals and medical accidents, and the fostering of pathologists with basic knowledge of forensic medicine
Fostering of Specialists who can make identity confirmations based on dental findings and promptly detect child abuse cases
Fostering of Specialists who are involved in diagnosis in abuse and injury cases
Other matters related to cause-of-death investigation
【Steering Committee】
(Matters to be discussed)
Personnel affairs of faculty members
Budget and settlement
Educational programs
Other important matters related to the center