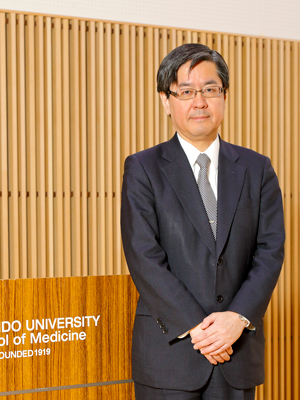 Hokkaido University School of Medicine was originally established as Hokkaido Imperial University School of Medicine in 1919, one year after the foundation of Hokkaido Imperial University. Since then, we have gained acclaim as a distinguished medical school in Japan with tradition and history, and our 100th anniversary is approaching. A total of 9,500 students have graduated from the program during these years, and we are proud of having trained many excellent specialists with outstanding achievements in the medical science and medical care fields in Japan.

The goal of the School of Medicine is to "train physicians and medical researchers who will contribute to advances in medicine and in the practice and development of medical care". To contribute to advances in medicine and medical care, not only deep and extensive medical knowledge but also intellect, applying skills, critical thinking, creativity and international perspective are required. Our aim also includes the training of global human resources capable of playing active roles not only in Japan but also on the global stage as well. So, how do you define global human resources? It goes without saying that global human resources must attain a certain level of language ability as a means of communication. Beyond that, they must also have extensive cultural accomplishments and specialties, the capacity to understand and accept other ethnic groups and cultures, and the ability to act with self-initiative and cooperativeness.
Hokkaido University has been promoting the educational environment that would cultivate the above-mentioned abilities. The School of Medicine revised its curriculum in 2013, and has strengthened clinical clerkships and the medical research training program. In clinical clerkships, students are exposed to the expertise, thinking methods, and skills which physicians need in medical practice, participating as members of a medical team. In addition, in 2016, the School of Medicine accepted approximately 30 international exchange students from universities around the world, which contributed to cultivating the environment for the students of the School of Medicine to acquire not only language ability but also international sense by having international students around them. Furthermore, we offer the program for students to experience the clerkship abroad. In 2017, through the program, we are going to send eight sixth-year students to universities' medical schools in Hong Kong, Singapore and the United States for four-week clinical or medical electives. We believe these experiences will help broaden their vision and lead to develop global human resources who are cooperative and capable to accept diverse cultures.
Hokkaido University has a spacious and quiet campus with much of luxuriant nature in the very center of Sapporo City. We wish you to be able to devote yourself to your studies, to make contact with excellent mentors, seniors, and friends in this wonderful environment, and to become physicians and medical researchers with creativity and high standard of ethics who could contribute to the progress of medicine. Hokkaido University School of Medicine welcomes students with a strong sense of purpose and ideals to achieve self-growth through the study of medical science.
April 3, 2017
YOSHIOKA Mitsuhiro, M.D., Ph.D.
Dean, School of Medicine, Hokkaido University