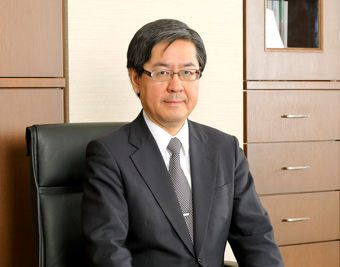 In April 2017, in order to send out the manpower flexibly to respond to the social needs which change dramatically, the Graduate School of Medicine was reorganized into an organization which solely graduate students belong to, by separating the organization of faculty members, which is newly named as Faculty of Medicine. This reorganization enabled us to provide global education of graduate school by organically integrating different disciplines. In other words, the educational approach has been enabled where faculty of multiple graduate schools, research institutes, or others can take part in the education and the redistribution of educational resources has been realized without being confined to a research domain. By virtue of this new system, we can promptly respond and establish an educational organization without a need to carry out the reconstruction of faculty organization, if requested by the society to implement a new type of education.
All the members of the Faculty of Medicine will work togather to provide students of the Graduate School of Medicine with education. Some faculty members will also take charge of instructing students of the Graduate School of Biomedical Science and Engineering, and the Graduate School of International Infectious Diseases, which have been newly established. With this reorganization, under the philosophies of the Graduate School of Medicine "to lead the world with cutting-edge research in medical science" and "to equip the next generation of medical researchers and medical professionals with a strong sense of ethics and a well-rounded character to contribute to the health and welfare of humanity", we set our educational goal to nurture individuals who possess high ethical standards and highly specialized knowledge regarding medicine, life science and social medicine (public health) as well as research and teaching or practical capabilities.
Education and research at graduate school are two sides of the same coin. Therefore, only where excellent international-standard researches exist, high-level education will be realized. At this Faculty of Medicine, leading-edge researches are conducted in various fields of basic medicine. And in the fields of social medicine, high-level researches to make medical approach to solve the problems, which modern societies are facing, are conducted. Also, in collaboration with Hokkaido University Hospital, world-leading researches in clinical medicine are conducted, such as developing new drugs applying biogenetics, developing most advanced diagnostic/therapeutic apparatus applying the theory and technique of physical engineering, developing new therapies using humanized animal models or applying tissue cell engineering, and furthermore researches on precision medicine using comprehensive cancer gene diagnosis.
Amidst the great changes taking place in the environment surrounding universities, we intend to have active discussions about the future education, research and medical treatment, and to work on the advancement of the development.
As of April 3, 2017
Mitsuhiro Yoshioka, M.D., Ph.D.
Dean, Hokkaido University Faculty of Medicine