Department of Public Health, Graduate School of Medicine, Hokkaido University
Akiko Tamakoshi, M.D., Ph.D.Social
Medicine
1987: Graduated from the School of Medicine, Nagoya University
1991: Research Associate, the School of Medicine, Nagoya University
1998: Associate Professor, the School of Medicine, Nagoya University
2006: Clinical Trial Control Manager, the National Center for Geriatrics and Gerontology
2007: Associate Professor, Department of Public Health, the School of Medicine, Aichi Medical University
2009: Project Professor, Department of Public Health, the School of Medicine, Aichi Medical University
2012 – Present: Professor, the Department of Public Health – Hokkaido University, Graduate School of Medicine
We are exploring the relationship between life style, the environment, and health through cohort studies that will continue for years to come.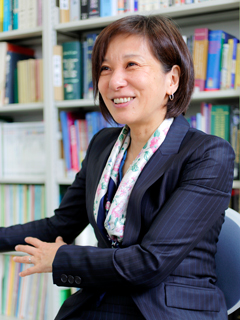 In the Department of Public Health, we are engaged in studies that help create a society where people can live healthy and comfortable lives. To achieve this, our studies focus on three areas: (1) administrative function, where social systems are designed to improve living conditions in the community, (2) research to generate evidence that underpins such improvements, and (3) practical activities enabling improvements in everyday community living.
"Public Health is the science and art that works towards realizing a society where all of its members, from unborn babies to the elderly, from the healthy to the sick, can live physically and mentally fulfilling lives as far as humanly possible. For this purpose, we carry out long-term prospective studies to understand how individual life styles, community environments, constitutional predispositions, and customs and habits affect health, and generate evidence through the analysis of these results. Put differently, this field of study has characteristics common to sociology in that it aims to translate research findings into medical policies that are implemented in the community."
Cohort studies that follow specific groups of participants for long periods are the focus of our research activities, and we have conducted large-scale cohort studies including the JACC Study and the NISSIN Project in collaboration with other universities.
"In the JACC Study we have completed the follow-up survey, and are currently engaged in the data analysis. The NISSIN Project is a unique cohort study targeting 65 year old residents, aiming to contribute to health promotion among the elderly as well as to overcome obstacles to health maintenance. By comparing walking speeds, we have found that the mortality rate of people who walk faster is lower than that of people who walk more slowly."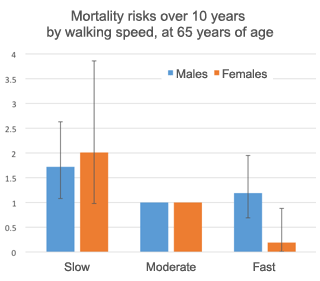 The mission of cohort studies is to explore relationships between daily life styles and health, and not to elucidate biological mechanisms of diseases. Elucidation of such mechanisms is the mission of basic medical research.
"When a significant relationship is identified, it is important to examine whether such a relationship can be explained from basic scientific knowledge. However, in many cases there is no such explanation. Thus, it is necessary to evaluate and develop data collection methods that will assist future studies to elucidate the phenomena involved."
In our department, we provide an ideal environment for students to environment for students to experience the whole process of epidemiological studies and acquire the knowledge and skills of all aspects of research, such as research planning, collaboration with related organizations, data collection and analysis. Here, students can develop competence, as well as the broad knowledge and understanding that is necessary to play future leading roles in epidemiological studies including cohort surveys, even if they will move on to other research institutes or administrative bodies.
A research field with clear social relevance contributing to well-being and a healthy old age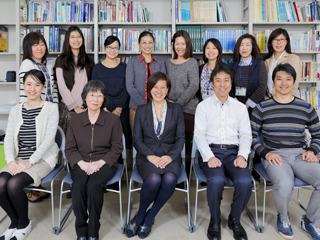 In the Department of Public Health, we are also conducting research that involves the people of Hokkaido, with a wide range approach, targeting residents in the community, elderly people living in their homes, and workers in local government.

"In a survey related to HbA1c (a hemoglobin form known to be closely related to diabetes), we examined the influence of differences arising from different methods of measuring HbA1c in the community. These differences rarely become important at the clinical level where patients are examined periodically and treatment effects are evaluated. However, at the community level, if laboratory data change due to changes in measuring methods, it may have a significant influence on countermeasures for diabetes adopted by local authorities as well as how the people react. The HbA1c values of residents of Hokkaido are commonly considered to be higher than in other regions, and this difference may arise because of differences in measuring methods."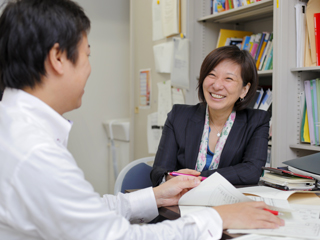 People with various backgrounds such as dietitians, nurses, and public health nurses, as well as the physicians belong to the Department of Public Health and are conducting various studies arising from medical, epidemiological, and sociological concerns. Some of the evidence established here only becomes clear by long-term follow-up studies, and the results of the analyses play a role in national and local health care policies.

"Different from clinical personnel we do not usually experience the gratitude of patients directly. However our research is still socially meaningful. For a future career there are opportunities to work in local and national government bodies and in other public offices as well as in international organizations including the WHO. Our working environment is accommodating to women and public health is a worthwhile profession for a lifetime career."
(Interviewed in October 2014)
We conduct special seminars to support and broaden your interests and knowledge with invited lecturers from a variety of fields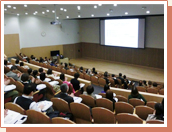 The Department of Public Health regularly invites leading researchers from other institutions to give lectures on various topics such as public health in general, nutrition, sport and exercise, and other health issues. Recent seminars have included topics such as "A brief self-administered diet history questionnaire: From basic theory to future directions", "Whole population approaches to promoting physical activities", and "Visualization of spatial data to measures of public health." Our seminars offer insights and stimuli with participants from various backgrounds such as public health nurses working for local government as well as researchers and students of public health.