We are pleased to welcome you all to join us for the 9th GCB Biomedical Science and Engineering Symposium, which is jointly organized by Hokkaido University and Stanford University on 20-21 August 2022. To promote international collaborative research and education, this symposium had been held annually since 2014 at Hokkaido University campus, but due to the ongoing global COVID-19 pandemic, the previous symposium was held entirely online, and this year's edition will be held in a "hybrid format" with virtual and in-person participation.
This year the symposium will feature the cutting-edge research in Clinical and Biomedical Physics, Radiation Therapy, Radiation Biology, and Diagnostic Imaging not only at Hokkaido and Stanford Universities but also at other leading institutions in Japan, the US, Turkey, and Thailand including Kyoto University, Duke University, University of California San Francisco, Bogazici University and Chulalongkorn University. All presentations and discussions will be delivered live via Zoom and recordings will be made available for viewing on-demand with prior registration. To find out more and register, click on the link; The 9th GCB Biomedical Science and Engineering Symposium (ec-pro.co.jp)
Date
August 20 (Sat) - August 21 (Sun), 2022
Location
【HYBRID EVENT】 Large Conference Room, Centennial Hall, School of Medicine, Hokkaido University and Online


*Videos on-demand will be available to registered participants for viewing after the event.

Flyer/Program
Please see the poster.
Language
English
Registration
Please register from Registration form (google.com) by August 10
Fee
Free of charge
Website
The 9th GCB Biomedical Science and Engineering Symposium (ec-pro.co.jp)
Enquiries
Please contact the Global Center for Medical Science and Engineering via email at gcb★pop.med.hokudai.ac.jp


Please convert ★ to @ when you send an e-mail.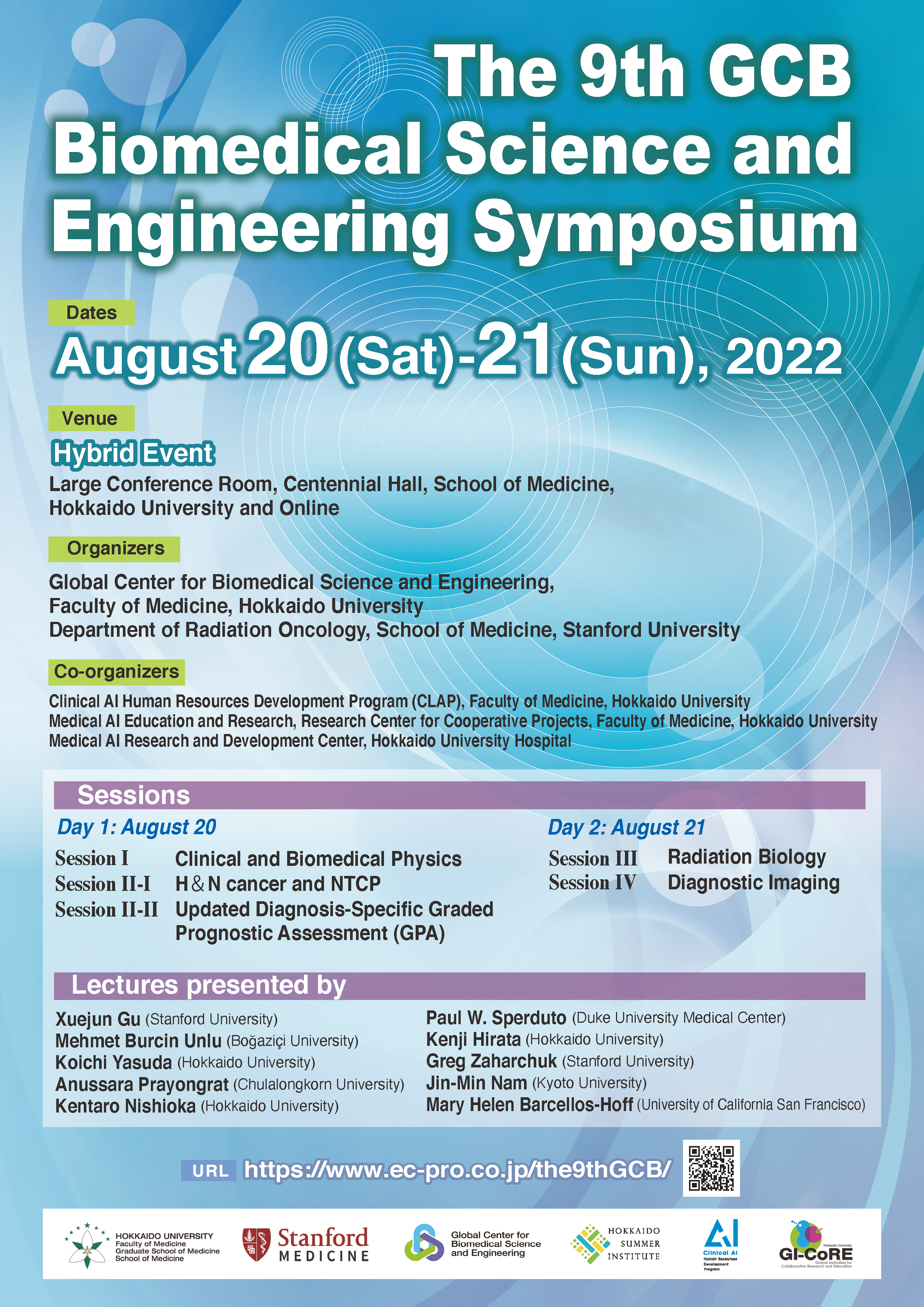 We look forward to your participation!
---