Department of Dermatology, Graduate School of Medicine, Hokkaido University
Hideyuki Ujiie M.D., Ph.D.Specialized
Medicine
Academic & Professional Experience
2002 : M.D. Hokkaido University School of Medicine
2002-2005 : Resident, Department of Dermatology, Hokkaido University Hospital
2005-2006 : Resident, Department of Dermatology, Hokkaido Cancer Center
2010 : Ph.D. Hokkaido University Graduate School of Medicine
2010-2012 : Assistant Professor, Department of Dermatology, Hokkaido University Hospital
2012-2014 : Visiting Fellow, Laboratory of Immunology, NIAID, NIH
2014-2016 : Assistant Professor, Department of Dermatology, Hokkaido University Hospital
2016-2020 : Lecturer, Department of Dermatology, Hokkaido University Hospital
2021-present : Professor and Chairman, Department of Dermatology, Faculty of Medicine and Graduate School of Medicine, Hokkaido University
Leading the development of dermatology with a high level of expertise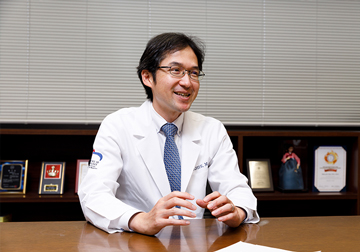 The Department of Dermatology has a history spanning nearly 100 years since its inception in 1925. The department provides high-quality, state-of-the-art medical care through a number of specialized outpatient clinics. It is one of the few facilities offering outpatient care not only for common diseases, including atopic dermatitis, psoriasis and skin tumors, but also for rare and intractable diseases, such as autoimmune blistering diseases, epidermolysis bullosa, and ichthyosis and palmoplantar keratoderma, and boasts an extremely high level of expertise in this area. A nail clinic has also been established to treat ingrown toenails, for which the number of patients has increased in recent years.
Professor Hideyuki Ujiie, the sixth chair of the department, commented on the characteristics of dermatology: "Dermatology is sometimes seen as complicated and difficult to approach because of the many types of diseases and diverse causes and pathological conditions. In fact, there are many cases where the cause is unknown and no fundamental treatment is available. However, as the saying goes, 'There is no skin rash without a cause.' It is therefore important to pursue the cause, and I believe it is the mission of dermatology to continue to challenge ourselves to find the correct answer."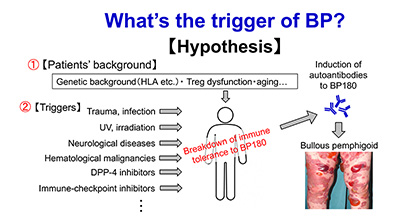 Under four main research themes: (1) elucidation of the pathophysiology of autoimmune blistering diseases and the development of novel treatments; (2) basic research for skin epithelial stem cells and elucidation of the pathophysiology of rare and intractable skin diseases; (3) development of novel treatments for malignant skin tumors; and (4) elucidation of the pathophysiology of hereditary skin diseases and the development of novel treatments, the department actively adopts cutting-edge technologies such as gene editing, RNA-seq, and single-cell analysis, and focuses not only on in vitro research but also on in vivo research, including the development and application of the department's unique animal models for human diseases.
The professor says, "The department maintains a system that allows researchers to focus on their own basic research, such as analysis using unique knockout mice. I believe that conducting basic research that leads to the elucidation of the causes, pathophysiology and mechanisms of rare diseases is an area of research that should be pursued at Hokkaido University."
In 2017, Professor Ujiie's research team discovered that a specific white blood cell type (HLA gene) was associated with cases of bullous pemphigoid while taking DPP-4 inhibitors, a drug used to treat diabetes. Although bullous pemphigoid has a variety of triggers, it is particularly notable for its high rate of incidence in elderly patients taking DPP-4 inhibitors, a condition that has a significant impact on the patient's quality of life. The research group classified skin symptoms and autoantibodies in 30 cases of DPP-4 inhibitor-related bullous pemphigoid, analyzed HLA genes, and found a close association between DPP-4 inhibitors and the development of bullous pemphigoid. The professor says, "We expect that the results of this study will lead not only to the elucidation of the pathophysiology of bullous pemphigoid but also to the development of methods for the prevention of its onset and new treatments. In the future, we will work to elucidate the mechanisms by which genetic backgrounds other than HLA and aging induce autoantibodies."
Broad and deep research activities with a global perspective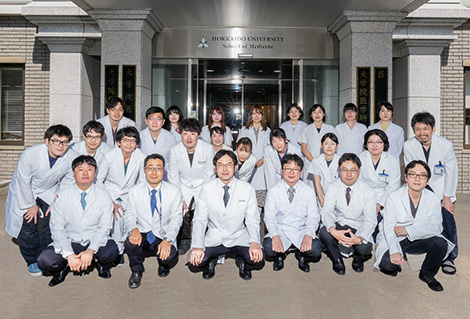 The department emphasizes education and provides a positive environment for the education of students, residents and senior residents. It focuses on clinical practice and clinical research for common diseases such as atopic dermatitis, psoriasis and skin tumors, in addition to rare diseases. In graduate school, research is conducted on a wide range of topics such as immunology, stem cells, tumors and genetic diseases, both clinical and basic, with the aim of engaging in research that can be directly applied to the clinical field. With approximately 40% of its members being women, the department promotes the creation of an organization in which women can play an active role and respond to various life events and actively supports women's advancement to graduate school.
"Research in graduate school definitely improves your clinical practice," says Professor Ujiie. "By working with your own hands, you can experience various analytical methods and experimental techniques as well as learn how to identify causes and approaches to the elucidation of pathophysiology." He points out that in a clinical setting, various tests and analyses are ordered, and that it is important not only to receive the results that come out but also to have a clear understanding of what to focus on and what needs to be clarified in order to raise the level of clinical practice.
The department also encourages students to study abroad and focuses on English language education as a prerequisite for such studies. Members of the department can take English conversation lessons and check English papers and conference abstracts under the guidance of native speakers. It is also possible to take high-level lessons to prepare for studying abroad, and three or four members of the department are studying abroad at any given time. Professor Ujiie aims to nurture human resources who can develop research from a broad perspective, saying, "There are still many unknowns in the field of medicine, and I feel that there is tremendous potential for making world-first discoveries through research. If you can communicate with the world in English, you can help more people. Our graduate school offers the opportunity to learn about the world and conduct research with global awareness."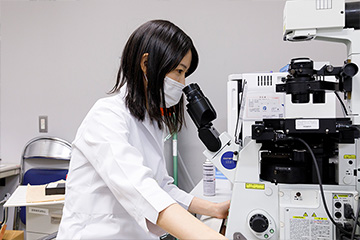 (Interviewed in September 2022)
Dermatology residency program for the systematic study of dermatological diseases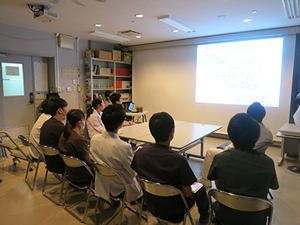 The dermatology residency program is held every Thursday evening with the goal of acquiring general dermatology knowledge in one year. The faculty, medical staff and graduate students of the Department of Dermatology at Hokkaido University as well as physicians from affiliated hospitals serve as lecturers. Each lecture is focused on an independent topic and can be taken as a stand-alone course. Since skin diseases are often caused by collagen or other internal diseases, not only dermatology senior residents and clinical residents but also medical students are welcome to participate in the program at any time.