Department of Psychiatry, Graduate School of Medicine, Hokkaido University
Ichiro Kusumi, M.D., Ph.D.Specialized
Medicine
Education:

1984

: M.D. Hokkaido University School of Medicine

1993

: Ph.D. Hokkaido University School of Medicine
Hospital Appointments:

1984-85

: Department of Psychiatry, Hokkaido University Hospital

1985-87

: Department of Psychiatry, Muroran City General Hospital

1988-

: Department of Psychiatry, Hokkaido University Hospital
Academic Appointments:

1987-88

: Researcher, Division of Mental Disorder Research, National Institute of Neuroscience, National Center of Neurology and Psychiatry, Kodaira, Japan

1993-99

: Assistant Professor, Department of Psychiatry, Hokkaido University School of Medicine

1994-95

: Inviting researcher, Department of Neuropsychopharmacology, Faculty of Medicine, University of Toronto, Toronto, Canada

1999-2008

: Lecturer, Department of Psychiatry, Hokkaido University Hospital

2008-12

: Associate Professor, Department of Psychiatry, Hokkaido University Graduate School of Medicine

2012-

: Professor and Chairperson, Department of Psychiatry, Hokkaido University Graduate School of Medicine
Our motto is "Without haste, but without rest."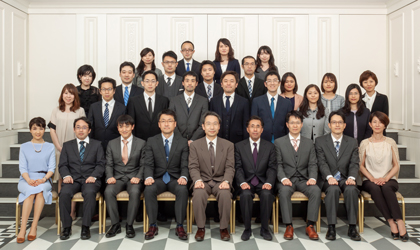 The Department of Psychiatry was established in 1928 by Professor Yushi Uchimura, who served as its first head. He was the eldest son of Kanzo Uchimura (1861-1930), an eminent Christian thinker and writer who studied under Dr. William Smith Clark as a second-generation student who graduated from Sapporo Agricultural School (present-day Hokkaido University), which was founded in 1876. The department was taken over in 2012 by Professor Ichiro Kusumi—its seventh head—and has continued to develop based on 90 years of history and tradition, still teeming with the same vigor it had at the time of its establishment.
According to Professor Kusumi, "Our education programs geared toward trainee doctors, the prototype for which was formulated more than 50 years ago, are far superior to those of our counterparts. The superb content of these programs as well as the firm establishment of our teaching staff's stance in regard to assuming responsibility for passing on what they have learned from senior researchers to young researchers provide us with an edge." The motto of our department is 'Without haste, but without rest' – a quotation cited by Professor Nozomi Suwa, the fourth head of the department, from a poem by German poet Goethe (1749-1832): "Wie das Gestirn, Ohne Hast, Aber ohne Rast, Drehe sich jeder Um die eigne Last." ("Like a star, unhasting, unresting, be each one fulfilling his God-given hest.*"). The motto connotes that researchers must be prepared to ruminate over every possibility without rushing to conclusions and constantly strive to complete the duties they have been given. These attitudes are quite similar to those of psychiatrists, who watch patients gradually recuperate from disorders while maintaining long-term relationships with them.
*Lewes, G. H. (1965): The life and works of Goethe; London: Dent, Everyman's library; No. 269 (p. 569)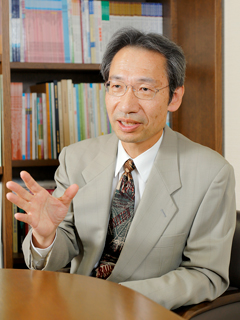 Professor Kusumi primarily conducts research on cognitive impairments and glycolipid metabolic dysfunction in psychiatric diseases.

In some cases, patients with schizophrenia or mood disorders cannot lead a trouble-free social life even though their symptoms have improved to some extent. The professor carries out research focused on "cognitive remediation" for recovering cognitive functions via specific training with the aim of improving the cognitive impairments causing such social-related issues. He is also involved in the research and development of effective therapies including medicinal and psychosocial treatments.

To improve glycolipid metabolic dysfunction, Professor Kusumi performs blood glucose monitoring to consider effective preventive methods, based on the current situation in which people with schizophrenia or bipolar disorder (manic depressive illness) are two times more likely to suffer from diabetes than the general population. At the same time, the professor is also engaged in drawing up diabetes prevention guidelines for people with schizophrenia under the concept of paying attention to not only the mental symptoms but also the physical conditions of patients. On behalf of the Japanese Society of Psychiatry and Neurology, he is promoting this operation in conjunction with the Japan Diabetes Society and the Japan Society for the Study of Obesity. In addition, he is striving to clarify the mechanisms behind antipsychotic drugs causing high blood glucose through animal experiments.
Five different groups are engaged in interdisciplinary treatments and research.
The Department of Psychiatry encompasses five groups related to both clinical and research method fields: Schizophrenia Group, Mood Disorder Group, Clinical Psychopathology (Neurosis) Group, Clinical Neurophysiology (Epilepsy) Group, and Child and Adolescent Psychiatry Group. These groups interact as they engage in treatments and research activities.

"Our department has been proactively and independently engaged in not only clinical fields but also basic studies," says Professor Kusumi. In 1994, he went to Canada to study at the Department of Neuropsychopharmacology, University of Toronto—where researchers had succeeded in cloning dopamine D4- and D5-receptors—with the intent of focusing on research methods in molecular biology, a discipline that had not yet been initiated in the department. During his time there, Professor Kusumi engaged in research on molecular biology aimed at identifying mechanism of action of antipsychotic drugs, and then brought these methods back with him to the department.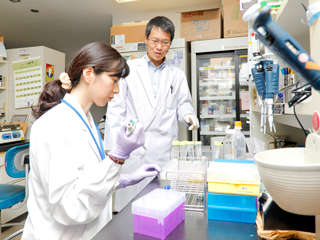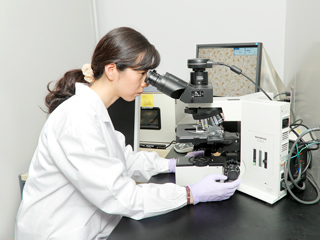 "Most graduate students and young doctors in our department conduct a wide array of studies ranging from basic to clinical problems they have identified. However, they should not commence research until they become a full-fledged clinician, which is our department's tradition. No one ever fails to discover their own problems through clinical experiences, which helps them come up with a research theme they wish to address. A variety of research disciplines have been created as a result of each researcher's awareness with regard to various issues."
Clinical groups and research method groups are currently working together to conduct research under a common theme of Cognitive Functions on a cross-disciplinary basis. Similarly, mental disorders more likely to develop under negative influences such as childhood abuse are thoroughly examined by the Schizophrenia Group under the theme of 'Associations among Psychiatric Symptoms, Childhood Stressful Events, Cognitive Patterns and Personality Traits,' as well as by the Mood Disorder Group under the theme of 'Effects of Childhood Abuse, Affective Temperaments and Adult Life Events on Depressive Symptoms.' Both groups share information with research method groups. Research on premenstrual dysphoric disorder is also being carried out in the same way.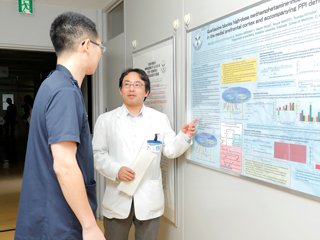 "Applying a method adopted to treat certain disorders to another disease with the intent of discovering new evidence may be unique in a sense. It was our department that initiated the application of internationally adopted cognitive remediation methods to depression at an early stage," says Professor Kusumi.

At the same time, the Child and Adolescent Psychiatry Group was newly created along with the establishment of the Department of Child and Adolescent Psychiatry—one of only a few disciplines in Japan—with the aim of fostering child psychiatrists, which is a profession facing an overwhelming shortage in Japan. In collaboration with Sapporo City, the group is involved in various roles such as the formulation of diagnostic criteria for children's mood disorders, standardization of treatments for children with mood disorders, research on the efficacy of antidepressants and on suicide prevention, as well as investigation into the cause of neurodevelopmental disorders and parent training for children with attention-deficit hyperactivity disorder.
(Interviewed in September 2018)
Discussions with colleagues in related hospitals across Hokkaido at "department academic meeting" through simultaneous online broadcasts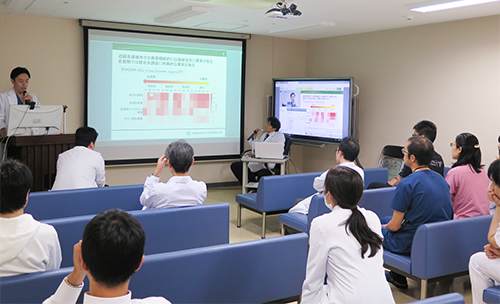 Lectures by extramural lecturers or the presentation of study reports by department members are held on Wednesday evenings and broadcast online in real time to 13 major hospitals serving as clinical collaboration in Hokkaido. This system enables participants and viewers to participate in discussions interactively, attracting favorable comments from trainee doctors and young doctors working in remote locations as it helps them gain a deeper sense of unity with the department. This tool created based on an idea from junior researchers has become an indispensable communication tool for our department.