Department of Anesthesia and Perioperative Medicine, Graduate School of Medicine, Hokkaido University
Yuji Morimoto, M.D., Ph.D.Surgery
Education

1980-82

: Premedical, Hokkaido University School of Liberal Arts, Sapporo, Japan

1982-86

: Medical School , Hokkaido University School of Medicine, Sapporo, Japan

1989-93

: Postgraduate course, Hokkaido University, Sapporo, Japan

1994-95

: Postdoctoral fellow, Duke University, NC, USA
Academic Appointments

1993-94

: Instructor of Surgical center, Hokkaido University Hospital, Sapporo, Japan

1994-98

: Instructor of Anesthesiology, Hokkaido University Hospital, Sapporo, Japan

1998-2000

: Instructor of ICU, Hokkaido University Hospital, Sapporo, Japan

2000-03

: Assistant Professor of Anesthesiology, Hokkaido University Hospital, Sapporo, Japan

2003-present

: Professor of Anesthesiology and Critical Care Medicine, Hokkaido University Graduate School of Medicine, Sapporo, Japan
The Department of Anesthesia and Perioperative Medicine aims for control and defense for invasive biological stress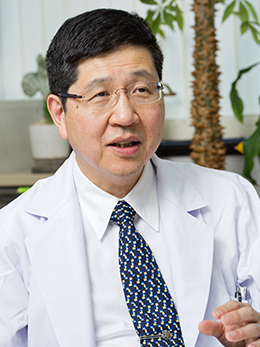 Approximately 40 clinical anesthesiologists provide around-the-clock medical care at Hokkaido University Hospital, which is the only medical institution in Hokkaido that is permitted to perform organ transplants from brain-dead donors and where advanced surgeries are performed daily. The anesthesiologists are specialists in caring for and curing the whole body, providing perioperative anesthesia management (i.e., before, during and after surgery) and helping to offer postoperative intensive care to patients. These anesthesiologists belong to the Department of Anesthesia and Perioperative Medicine (the Department of Anesthesiology, Hokkaido University Hospital), which Professor Yuji Morimoto has been leading since 2003 in his role as the third chair.

"The direction our department should pursue is control and defense for invasive biological stress*, which protects a living body from invasive stresses, such as anesthesia, surgery and pain as well as organ failure, trauma, sepsis and other serious medical conditions," says Professor Morimoto. Based on the concept of control and defense for invasive biological stress and centering on clinical anesthesia, the department aims to cultivate anesthesiologists who are also familiar with pain clinic medicine, palliative medicine, intensive care and emergency care.(*See the explanation of control and defense for invasive biological stress at the bottom of this page.)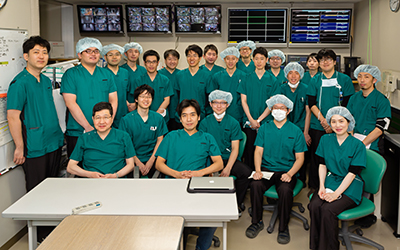 When he was a medical student, Professor Morimoto studied control and defense for invasive biological stress under Professor Osamu Kenmotsu, the previous chair of the Department, who was deeply versed in not just anesthesia but emergency and intensive care as well. While working as a resident at the emergency department of a municipal hospital, Professor Morimoto saw numerous patients with cardiopulmonary arrest who recovered their heartbeat but not consciousness, therefore entering a vegetative state. This experience made him take an interest in brain resuscitation and led him to join the Department of Anesthesiology at Hokkaido University Hospital as anesthesiology was at the cutting edge of research in that field.

After joining the Department of Anesthesiology at Hokkaido University Hospital, Professor Morimoto undertook research on brain injury following cardiac arrest, which was followed by research on the protective effects of anesthetics on the brain (from 1995) and research on the neurotoxicity of anesthetics in the developing brain of children under 6 years old and on the post-anesthesia and postoperative cognitive dysfunction in elderly patients (both from 2005). In 2017, he published a textbook entitled Anesthesia and Neurotoxicity as a compilation of his decade-long research at the request of Springer, an international publisher of scientific, technical and medical books.
"We offer support to young doctors going on to graduate school, respectful of their specific desires for research there," says Professor Morimoto. "They are free to decide when to pursue graduate work, but to continue their research, they need to have a certain amount of clinical experience and a strong motivation to find answers to clinical questions." To help implement the research on a wide range of topics they choose to pursue, Professor Morimoto also stresses the importance of collaboration with other departments in basic and social medicine, with clinical departments at Hokkaido University Hospitals and with other relevant departments at Hokkaido University.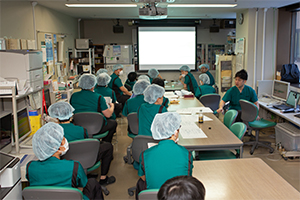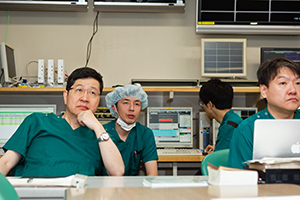 Offering a tailor-made education to help each student make their dream come true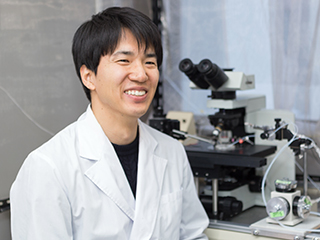 Dr. Katsuhiro Aikawa*, a then 4th-year Ph.D. student, embarked on basic research with support from the Department of Neuropharmacology (led by Professor Mitsuhiro Yoshioka). He undertook research on antidepressant effects of ketamine and worked to verify such effects by administering the antidepressant to experimental animal models which had been given stress in the juvenile phase to make them susceptible to depression in the growth stage. Having submitted a paper on the results of his research to a medical journal, he is now ready to pass the baton on to younger students. Looking back on his graduate work, he says, "I devoted my whole four years to both basic and clinical medicine. I am happy and grateful that I could produce the results I had wanted. I hope younger students can also enjoy a sense of fulfillment as I did." (*He has been an assistant professor at the Faculty of Medicine, Hokkaido University, since April 2019.)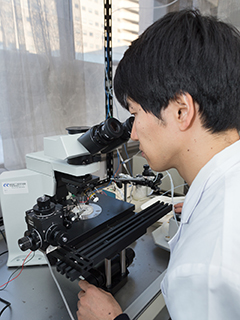 In basic research, members of the Department are also using an electrophysiological approach to elucidate the mechanism behind the cognitive dysfunction that is caused by cerebral inflammation derived from systemic inflammation in sepsis or other diseases and to develop treatments. The Department is also working to clarify how peripheral inflammation reaches the brain in collaboration with the Department of Psychoimmunology (led by Professor Masaaki Murakami) at the Institute for Genetic Medicine, Hokkaido University.

Working on the mechanism, prevention and treatment of postoperative cognitive dysfunction is Dr. Wang Wei, a 1st-year Ph.D. student from China. "The various experiment techniques I learned from senior doctors have crystallized the challenges I am facing. Dr. Uchida always patiently explains matters to me in detail. I have a great time each and every day, and my research is going smoothly," says Dr. Wang, sharing her confidence in her ability to produce results from her research. Dr. Yosuke Uchida, Dr. Wang's supervisor, devoted two years to researching postsurgical cognitive dysfunction at the University of California. Since returning to Japan, he has put his heart into his research and the support of graduate students to help with the further development of the laboratory of the Department.

In addition to promoting basic research on control and defense for invasive biological stress, members of the Department are also active in clinical research. A representative clinical research program features changes in cerebral circulation during pediatric cardiac surgery—a study being conducted using clinical data provided by the Department of Cardiovascular and Thoracic Surgery. Researchers measure cerebral blood flow velocity and oxygen saturation simultaneously using Transcranial Doppler Ultrasonography (TCD) to clarify changes in blood circulation in the brain tissue during surgery, exploring prognostic implications and the usefulness of clinical monitoring.

"Young doctors at the Department have different goals. Some hope to specialize in anesthesiology, while others aspire to practice intensive care. There are also some others who aim for palliative medicine or strive to work at pain clinics. Our job is to watch over each and every young doctor who has joined our Department in terms of how they develop and advance toward their goals, while providing a tailor-made education to help them make their dreams come true," says Professor Morimoto.

Professor Morimoto stresses the great potential of anesthesiologists: In our field, clinical treatment and research cover the whole body, from head to toe, and are closely related to other fields of basic and clinical medicine. What is fascinating about our field is that there are many career options young doctors can choose.
(Interviewed in December 2018)
Control and defense for invasive biological stress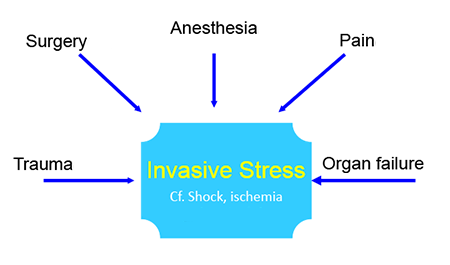 Control and defense for invasive biological stress is a branch of medicine concerned with the pathophysiology of organs and the whole body and organ protection under invasive stress conditions as shown in the illustration.