Department of Breast Surgery, Graduate School of Medicine, Hokkaido University
Hiroko Yamashita, M.D., Ph.D.Surgery
December 2020: Retirement from her position at Hokkaido University Hospital
1980-1986: Faculty of Medicine, Nagoya City University Medical School.
1996-1999: Postdoctoral fellow at the Department of Pathology, Uniformed Services University of the Health Sciences, Bethesda, MD, USA
1999- Research and clinical fellow Nagoya City University Medical School
2005- Associate professor, Oncology, Immunology, and Surgery, Nagoya City University Graduate School of Medical Sciences
2012-present: Professor, Department of Breast Surgery, Hokkaido University Hospital
Working to develop effective ways to prevent and treat ER-positive breast cancer, which accounts for 80% of breast cancers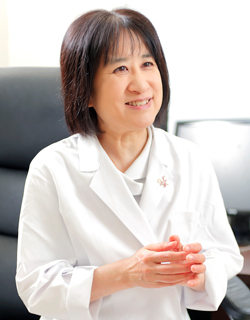 Breast cancer is the most common type of cancer in women in Japan. The incidence of breast cancer in Japanese women has tripled over the past two decades. Against such a background, in 2012, the Department of Breast and Endocrine Surgery (the predecessor of the Department of Breast Surgery) was established within the Hokkaido University Graduate School of Medicine, and as a clinical department, the Department of Breast and Endocrine Surgery (today's Department of Breast Surgery) was founded within Hokkaido University Hospital. Professor Hiroko Yamashita was appointed the first head of the department.
As one of the few academic departments at a national university in Japan dedicated exclusively to breast surgery, the department has taken an integrated approach to research and clinical practice primarily on breast cancers. In clinical practice, the department has provided thorough medical care as a team in collaboration with all relevant Hokkaido University organizations, including other clinical departments, the Department of Radiology, the Department of Surgical Pathology, the Diagnostic Center for Sonography, the Cancer Center (e.g., the Department of Chemotherapy, the Palliative Care Center, the Cancer Counseling and Support Center), the Division of Clinical Genetics, and the Outpatient Treatment Center. The department has built a solid track record in breast cancer prevention, diagnosis and standard therapy (i.e., treatment that is accepted by medical experts in Japan and elsewhere as the proper treatment at the present time) in accordance with the relevant clinical practice guidelines formulated by breast cancer experts in Japan.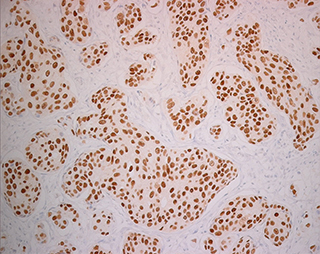 In the year before appointed to a professorship, Hiroko Yamashita found that estrogen receptor-positive breast cancer ("ER-positive breast cancer"), whose onset and progression are fueled by estrogen (a female hormone), accounts for 80% of diagnosed breast cancers in Japanese women and is the only type of breast cancer that has continued to rise every year. She analyzed the findings and concluded that changes in the environment surrounding us over the past three decades have caused a higher incidence of breast cancer. Professor Yamashita felt a heavy weight of responsibility for her research, which she has considered as her lifework ever since she decided to specialize in breast surgery. She says that this made her resolve to work even harder and assume a post at Hokkaido University.

Her current research themes include (1) the development of effective therapies for ER-positive breast cancer based on the analysis of its biological characteristics and host factors and (2) the analysis of the mechanisms of the onset of ER-positive breast cancer: efforts to identify susceptibility and prevent the onset of the disease. The former research is aimed at developing therapies and strategies to prevent recurrence that are suitable for individual cases by identifying factors that contribute negatively to therapeutic effects, including those for relapse in patients who are on anticancer drugs used to prevent the recurrence of their cancer. The aims of the latter research are to identify risk factors for ER-positive breast cancer in order to develop strategies to prevent its onset based on prediction models for identifying high-risk groups for the cancer.

In the research on prediction models for identifying high-risk groups, Jiazhi Guo, the first graduate student at the Department of Breast Surgery, developed the best model to predict risks for pre- and post-menopausal women aged 40 and older. His doctoral dissertation, titled Establishment of risk prediction models for estrogen receptor-positive breast cancer in Japanese women, was published in Oncotarget, an open-access American medical journal, after a strict peer-review process in 2017.
Basic research essential for clinicians dealing with unmet patient needs
As a basic principle, members of the Department of Breast Surgery are engaged in translational research using information about patients and their breast cancer tissue and blood samples.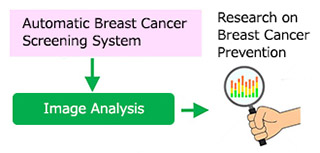 Professor Yamashita says that providing medical care to patients brings to the surface pending issues such as cases that show no therapeutic effects no matter what therapies are used. She stresses that for clinicians it is invaluable experience to conduct research at graduate school while considering possible solutions to such unmet needs. She says: "Students should be research minded and work to develop an eye for getting to the bottom of the disease at graduate school. They can provide high-quality medical care tailored to each patient only when they understand the functions and side effects of cancer therapies, mechanisms of anticancer drugs, and leading-edge treatments such as molecularly targeted therapy. Basic research is also indispensable for the appropriate use of rapidly advancing standard therapies.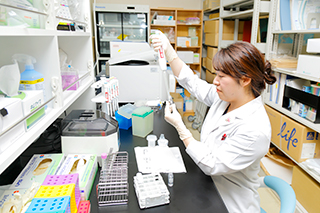 As another approach to research to prevent the onset of breast cancer, Professor Yamashita is also engaged in R&D on an automatic breast cancer screening system based on a novel idea through industry-university cooperation. With the system, patients lie on a bed that has test cups filled with water for the breasts. The system is designed to visualize even minute changes in mammary glands simply by beaming ultrasonic waves at breasts from 360 degrees. Professor Yamashita and other researchers continue experiments on a prototype using human breast cancer tissue toward the scheduled completion around 2020. When completed, the system will enable simple, painless screening with high precision that will cover the shortcomings of mammography. "Unlike X-ray examinations, the system will require no special equipment or technologists and involves no exposure to X rays. Our goal is to popularize the system to the extent that anyone can lightly receive screening at places like drug stores and supermarkets," says Professor Yamashita with enthusiasm.
In the meantime, Professor Yamashita also expects that progress in the development of diagnostic imaging technology through collaboration with researchers in other disciplines will lead to the creation of technological seeds at Hokkaido University. She says, "Since it takes two to three decades before the onset of the types of breast cancer that are driven by female hormones, we will be able to slow the increase of such cancers if we can detect signs of canceration early by analyzing subtle signals using diagnostic imaging technology."
(Interviewed in November 2017)
Why not join the Hokkaido University network of breast surgeons (Hokkaido University Breast Surgeons' Club)?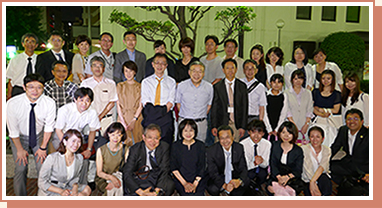 The Hokkaido University Breast Surgeons' Club was established in 2014 for members of the Department of Breast Surgery and doctors providing medical care to breast cancer patients at regional core hospitals and elsewhere. The club enables breast surgeons, who usually have to fight alone, to collaborate, turn to one another for advice and work to improve the quality of the medical care they provide through engagement in multi-institutional clinical research. Professor Yamashita hopes that junior residents interested in breast cancers will sign up for the club, ultimately joining the clinical Department of Breast Surgery and pursuing their study at the graduate school.