Department of Gastroenterological Surgery II, Graduate School of Medicine, Hokkaido University
Satoshi Hirano, M.D., Ph.D.Surgery
1988: Graduated from Hokkaido University School of Medicine and joined the Department of Surgery II of the University.
2000: Appointed as an assistant professor in the Second Department of Surgery at the affiliated Hospital of Hokkaido University.
2003: Appointed as a lecturer in the Second Department of Surgery at the Hokkaido University Hospital.
2005: Engaged in research at the hepatobiliary pancreatic surgery and transplant surgery unit of St. James University Hospital in Leeds, U.K., and appointed associate professor in the Department of Surgical Oncology at the Hokkaido University Graduate School of Medicine.
November 2011: Appointed professor of surgery in the Department of Gastroenterological Surgery II (formed from the reorganization of the Department of Surgical Oncology), of the Hokkaido University Graduate School of Medicine
Surgeons take initiative to conduct "All-Hokkaido" clinical research
Research findings shared with the world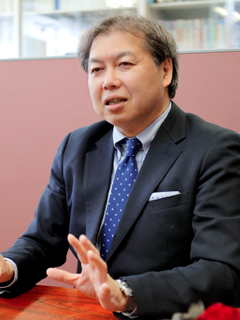 The history of the Department of Gastroenterological Surgery II extends back more than 90 years, to when the Second Department of Surgery was opened in 1924. Since Satoshi Hirano was appointed professor of the department in 2011, becoming the seventh generation to fill the position, he has worked to formulate multimodal treatment strategies for refractory, malignant tumors, and also to develop minimally invasive surgical techniques of endoscopic surgery and limited pancreatic resection techniques for low-grade lesions. At the same time, he has poured his energies into the field of surgical education, through initiatives such as a systematic 12-year program of holistic education following graduation from undergraduate medical studies.
In the Department of Gastroenterological Surgery II clinical, research, and education activities are conducted under a system of three groups—"pancreato-biliary" (biliary tract/ pancreas), "gastrointestinal" (esophagus/ stomach), and "experimental"—focused mainly on treatment and study of malignant diseases of the upper gastrointestinal tract, the biliary tract, and pancreas. Intractable cancers, such as those of the biliary tract and pancreas, require secure management before and after surgery and they also necessitate highly invasive surgery. For these reasons, building a suitable team and techniques for this very difficult treatment is a major focus of the department.
In the field of cancer treatment, the use of multimodality therapy that combine multiple methods—chemotherapy and radiotherapy, for example—has become a significant movement. On the basis of recent advances in chemotherapy and radiotherapy, Professor Hirano has set up a "All-Hokkaido" research group that brings together the medical universities of the prefecture (Hokkaido University School of Medicine, Sapporo Medical University, and Asahikawa Medical University) and all of Hokkaido's major hospitals so that clinical research into multimodal treatments of pancreatic cancer can be pursued without any barriers between medical institutions and departments.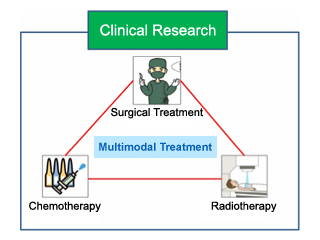 "With a population of around 5.50 million people, Hokkaido has three medical universities, and since most of the major hospitals in Hokkaido are affiliated with a university the standard of medical treatment is uniformly high. For medical oncologists, surgeons, radiotherapists, etc., multimodal treatment is easy to participate in, so I think it is possible to conduct clinical trials on an "All-Hokkaido" basis. Currently, we have collected data on about half of the target sample size, and by 2016 or so we expect to share the unique research findings with the world. I believe it will encourage everyone involved in medical care in Hokkaido, and we find that patients can also recieve great benefits from this new strategy."
The freedom to start new endeavors at any time is a tradition
A sense of mission to contribute to the development of medicine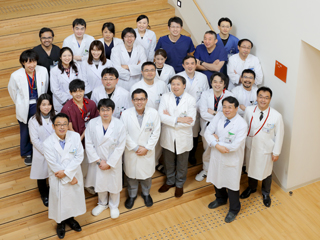 The Department of Gastroenterological Surgery II recommends that doctors enter graduate school in their fifth year after graduating from medical school. At graduate school, the physician-students select the topics they want to study in the two fields of basic research and clinical research, and then start to study in the hospital or the private lab of our department.
"Young doctors often run into a brick wall in their clinical work. Even if they are making remarkable progress in surgery, they feel that they still have a lot to learn, which inspires them to take another step forward or to study things from a different angle. At about the five-year mark after graduating, they come to realize what they are capable and not capable of, so leaving behind clinical practice for some time to conduct research is very valuable at this time. Most of the doctors who complete a senior residency go on to our graduate school."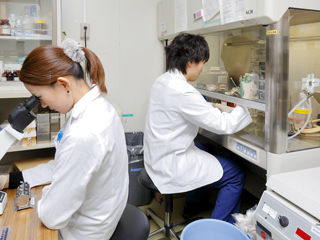 Research themes can be of various types—basic research, clinical study, or pathology—but in each case, the students work enthusiastically with the ambition to try and advance medicine in some small way. In the second to third year of a doctorate, which is a particularly intense period of research, students learn and experience a great deal.

"At our graduate school we put strong emphasis on two things: (1) to improve oneself as a clinician; and (2) to contribute to the advancement of medicine for the benefit of patients. Graduate students will all eventually return to clinical practice, and whatever setting they work in, the important thing is that they think about problems with the mind of a researcher. All the activities they pursue in the course of their graduate studies, such as working on their own to gather documentation, acquiring empirical data, analyzing and verifying it, writing papers, and earning a degree, are essential for every surgeon. Even if a research topic arises from a seemingly minor question or problem, if students keep in mind that their work may end up helping people, this attitude leads to significant growth as a surgeon. I want to see graduate students, through their research activities, develop the ability to confidently distinguish what is correct from what is incorrect."
In the department, we work hard to assemble effective teams of people with a variety of talents and individual characteristics, based on the concept that in surgery it is the team that determines success or failure. Human beings all have their strong and weak points. Professor Hirano believes it is possible to build teams with a strong collective competence when team members share their strengths and compensate for each other's weaknesses.
"It is one of our traditions that in the department there should always be a free-spirited atmosphere that permits new ideas and new initiatives. As a measure of this we are accepting researchers from outside the School of Medicine and from other universities, and we are even doing some joint research at the moment with Master's students at an engineering university. There is a lot of potential for this kind of thing; even if there are differences in academic field and experience the possibilities are endless. Also, graduate students often develop life-long trusting relationships with those they study together with, and they can also expand their professional networks both within Japan and internationally.
(Interviewed in December 2014)
Basic seminar on surgical procedures for students and interns
Explanatory meeting and social gathering will also be held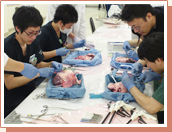 A basic seminar on surgical procedures is held for students and interns who are interested in surgery. Using a box trainer and virtual reality simulator and under the guidance of experienced surgeons, participants can try their hand directly with laparoscopic cholecystectomy, intestinal anastomosis, skin sutures, and other surgical procedures. After this enjoyable learning experience there will also be an explanatory meeting about the Department of Gastroenterological Surgery II and a social gathering.