Department of Respiratory Medicine, Graduate School of Medicine, Hokkaido University
Satoshi Konno, M.D., Ph.D. Internal
Medicine
Graduate

1989–1995

Asahikawa Medical College, Asahikawa, Japan
Academic:

1995-2002

Research staff First Department of Medicine, Hokkaido University

2001

PhD: Division of Respiratory Medicine, Hokkaido University School of Medicine

2002-2004

Post doc fellow, Asthma & Allergy Center, Johns Hopkins University

2005-2011

Assistant Professor, First Department of Medicine, Hokkaido University

2011-2016

Lecturer, First Department of Medicine, Hokkaido University

2016-2019

Associate Professor, Department of Respiratory Medicine, Faculty of Medicine and Graduate School of Medicine, Hokkaido University

2019-

Professor, Department of Respiratory Medicine, Faculty of Medicine and Graduate School of Medicine, Hokkaido University
Comprehensive research is indispensable even in the present age when specialized fields are becoming more segmentalized.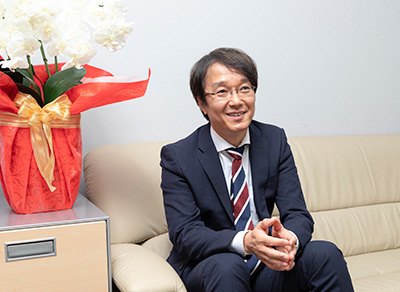 The Department of Respiratory Medicine (the name of the clinical department is Internal Medicine I, formerly the First Department of Medicine), where medical treatment and research is conducted on diseases of the respiratory system, or the air passage during breathing, which consists of the upper respiratory tract (including the nasal cavity, pharynx and larynx) and the lower respiratory tract (including the trachea, bronchi and lung alveoli), has a history of 100 years since its establishment in 1921, when the University Clinic (today's Hokkaido University Hospital) was established at Hokkaido Imperial University School of Medicine. Satoshi Konno, M.D., Ph.D. was appointed as the sixth professor of the department in 2019 and, following the policies of successive professors, devotes himself to "fostering physicians who can examine the whole body".

Professor Konno says, "We should care about the patient's symptoms regardless of the respiratory organs involved and should solve the problems that can be solved, while leaving the problems that cannot be solved to specialists. I think that examining the whole body means making timely decisions. Physicians with such abilities may be useful in Hokkaido, where there is a shortage of doctors."
Professor Konno, who specializes in respiratory medicine in general and calls himself a 'jack-of-all-trades,' says, "I always have a desire to study anything extensively. Today, the specialized fields are becoming more segmentalized, while comprehensive research is also indispensable. We do not specialize only in the respiratory system, but also emphasize connections with other areas, such as those between the respiratory system and the circulatory system, and between respiratory diseases and obesity. Currently, we are conducting research on the mechanism by which obesity exacerbates respiratory diseases. The strengths of our department can be demonstrated by focusing on these connections, which is not often done in the world."

He also says, "Our department has produced physicians in numerous specialized fields in its long history, including diabetes, the cardiovascular system and the digestive system, and we are in a privileged environment where we can study respiratory diseases from all directions with such fellow physicians."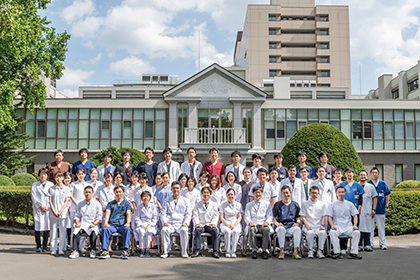 Professor Konno got interested in research to find genes involved in the onset of asthma and allergic diseases because he had many opportunities to take care of patients with these diseases during his residency. Since then, he has elucidated the pathophysiology of asthma (especially severe asthma) and chronic obstructive pulmonary disease (COPD), has engaged in epidemiological studies of allergic diseases targeting whole Japanese population and freshmen in Hokkaido University, and of sarcoidosis, a designated intractable disease in Japan that causes granuloma in many organs in the body. From a multifaceted perspective, he has explored the pathophysiology of respiratory diseases, about which much is still unknown.

Currently, the department boasts staff members with special skills. "Pulmonary hypertension, which increases blood pressure in the arteries that connect the heart and the lungs, should be examined by both respiratory and cardiovascular specialists. However, Professor Ichizo Tsujino plays both roles alone (Specially Appointed Professor, Department of Respiratory and Cardiovascular Innovative Research). Professor Naofumi Shinagawa leads Japan in the development and operation technology of special cameras used for diagnosing lung cancer (Specially Appointed Professor, Division of Respiratory Advanced Medical Device Development, Hokkaido University Hospital). Both are invaluable assets," Professor Konno says. "Clinical and basic research on asthma, COPD, and pulmonary fibrosis cannot be done without Lecturer Masaru Suzuki and Assistant Professor Kaoruko Shimizu, who can provide wide-ranging guidance. Assistant Professor Hajime Asahina is a leader in clinical trials of new drugs for lung cancer. Lecturer Eiki Kikuchi and Lecturer Jun-Konishi Sakakibara, who are responsible for lung cancer drug discovery experiments using mice, are persons hard to replace. In the area of infectious diseases, a system centered on Assistant Professor Sho Nakakubo has also been established. In this way, with many talented staff members, we can cover both basic and clinical research on our own. We are proud of it."
Stimulating young people through interaction with world-class researchers
Professor Konno says that joint research on COVID-19 is becoming more active on campus in 2020, when the new coronavirus infection (COVID-19) is sweeping the world.
"At Hokkaido University Hospital, our department is in charge of all medical care for COVID-19 patients. We are also involved in research to promote the PCR testing method using saliva (Chief: Professor Takanori Teshima, Hematology), and research on the effect of gargling to reduce viral load in saliva (joint research with the Faculty of Dental Medicine)," he says. "In addition to categorizing cases that physicians have experienced in our department and multiple related hospitals and continuing to publish English papers, we are also studying the effect of sample storage conditions on test results (PCR, antigens, viral culture) in collaboration with the Faculty of Veterinary Medicine and the Division of Laboratory and Transfusion Medicine at Hokkaido University Hospital."
Young doctors are also interested in the COVID-19 research. "They plan to go on to graduate school to receive the guidance of Professor Masaaki Murakami (Division of Molecular Psychoimmunology) of the Institute for Genetic Medicine and develop basic experiments on the aggravating factor of COVID-19 using model mice," Professor Konno says.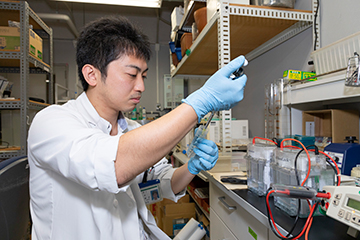 On the day of the interview, in the laboratory of the Department of Respiratory Medicine, Dr. Kosuke Tsuji (second year at graduate school) of the lung cancer group was conducting research to verify the difference in efficacy according to the combination of therapeutic agents for lung cancer and the effect of treatment for each type of cancer cell. Professor Konno says, "Experience in such research at graduate school will cultivate the ability to read new data and the way of thinking. There is no doubt that he will be able to improve his skills as a clinician."
Professor Konno, whose goal is to disseminate the department's efforts overseas, has also deepened a friendship with Professor Sally E. Wenzel of the University of Pittsburgh and Professor Monica Kraft of the University of Arizona, who are world authorities on severe asthma, and he has sent young doctors to study under their guidance. "I met them at international conferences and invited them to a research conference organized by our department. After that, they have asked me if we have good researchers who can work in their departments," the professor says. "About three times a year, we invite professors who are world authorities in all areas of respiratory diseases to participate in research conferences for graduate students before their lectures. After the COVID-19 pandemic ends, I would like to revive such opportunities for real discussions with world-class researchers, stimulate young people, and support study abroad."
(Interviewed in October 2020)
Seminar to train physicians to examine the whole body, and whole human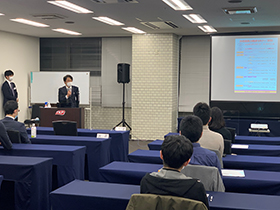 One of the department's major events is the Internal Medicine Resident Seminar for residents and undergraduate students, where fellow researchers in diabetes, the cardiovascular system, and other areas, who are invited from various parts of Hokkaido, talk about topics in their specialties every autumn. In summer, the Respiratory Resident Seminar is held jointly with Sapporo Medical University, where many residents learn about how to operate a bronchoscope (lung camera), examination methods, and how to use inhaled drugs. "We are also proud to be on good terms with the departments of respiratory medicine at Sapporo Medical University and Asahikawa Medical University. We value cooperative relationships in order to fulfill Hokkaido's medical care and maintain an even balance of regional medical care," Professor Konno says.