Department of Cardiovascular Medicine, Graduate School of Medicine, Hokkaido University
Toshihisa Anzai, M.D., Ph.D. Internal
Medicine
Education/Training

Keio University School of Medicine, Tokyo, Japan

M.D. 1989

Keio University Hospital, Tokyo, Japan

Int. Med. 1991

Cardiology Department, Keio University School of Medicine

Cardiology 1993

Cardiology Department, University of California San Diego

Post-doc 1998
Positions

1989

: Resident, Internal Medicine, Keio University Hospital

1991

: Clinical Fellow of Internal Medicine, Keio University Hospital

1993

: Clinical Cardiology Fellow, Keio University Hospital

1995

: Research Cardiology Fellow, University of California San Diego

1998

: Instructor, Cardiology Department, Keio University School of Medicine

2004

: Assistant Professor, Cardiology Department, Keio University School of Medicine

2010

: Professor, Cardiovascular Center, University of Health and Welfare Mita Hospital

2011

: Director of Heart Failure Division, Department of Cardiovascular Medicine, National Cerebral and Cardiovascular Center

2017.9-

: Professor and Chairman, Department of Cardiovascular Medicine, Hokkaido University Graduate School of Medicine
A Hokkaido-wide cohort study to bring precision medicine to refractory disease treatments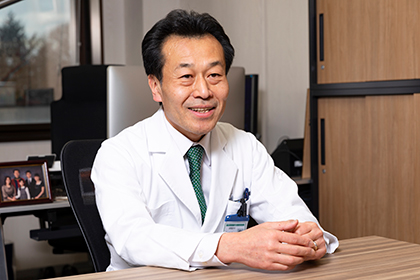 Cardiovascular medicine is a branch of medicine that deals with the disorders of the heart, which pumps the blood through your body, and blood vessels. At Hokkaido University Hospital, 40 cardiologists and staff members stand together under the leadership of Professor Toshihisa Anzai with their motto of "Everything is for the patients' well-being." They are well experienced in emergency medicine, including the treatment of acute myocardial infarction and acute heart failure; advanced medicine, including medical care for advanced heart failure, refractory arrhythmias and valvular heart disease; and preventive medicine for lifestyle-related diseases.

Professor Anzai says: "If your instinct as a physician is to be eager to work in emergency and critical care or aspire to assure your patients that you will save their lives, you will be cut out to work in cardiovascular medicine. Cardiovascular medicine offers various treatment options, ranging from catheter-based therapies to heart transplants to palliative care. This means that cardiologists can do everything possible to save patient lives."
This message from Professor Anzai demonstrates his stance as a person who has spent years struggling to find for his patients the right solutions to the challenges he faced at medical institutions where he worked.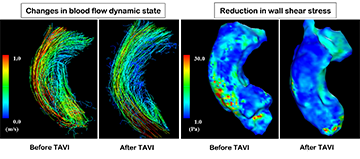 At the National Cerebral and Cardiovascular Center, the place he worked before joining Hokkaido University, Professor Anzai formed Japan's first palliative care team in cardiovascular medicine. The aim was to deliver palliative care to patients with cardiovascular disease to relieve their physical and psychological suffering. Since assuming a post at Hokkaido University in 2017, he has contributed to the evolution of cardiovascular medicine in Hokkaido by introducing new minimally invasive therapies* using catheters which are expected to result in better postoperative QOL of patients with valvular heart disease or other cardiac conditions who are at high risk due to advanced age or other factors (Fig. 1).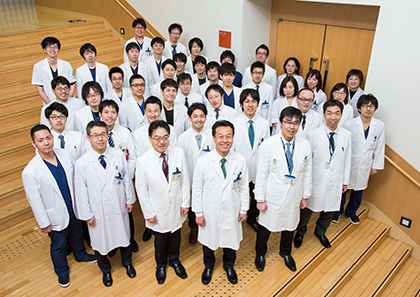 Today, Professor Anzai is leading a project known as the Epidemiological Multicenter Study for Tailored Treatment (ELMSTAT) in heart failure and atrial fibrillation across Hokkaido. "We collect genomic data from about 2,000 patients in collaboration with 22 associated medical institutions across Hokkaido and perform metabolome analysis and omics data analysis to shed light on gene mutations, blood biomarkers, heterologous protein expressions, metabolism and other factors. The aim is to apply research outcomes to precision medicine," he says of the research which began in January 2020.

Professor Anzai puts his hope for the future in the ELMSTAT project. "As Japan has become a super-graying society, patients with HFpEF* and other conditions that cannot be controlled by standard therapies are on the rise. Through ELMSTAT, I aspire to identify differences in their pathological features and make a system to provide the best available therapy to each patient, which I believe will be an asset for future generations of doctors and researchers in basic research. I think the project certainly is a great window of opportunity for us because with many associated medical institutions, Hokkaido is an ideal location for cohort studies and Hokkaido University, which is a hub for life sciences, has a wealth of outstanding researchers in basic research," Professor Anzai says.
Potentially groundbreaking discovery—the most rewarding part of research in cardiovascular medicine
Professor Anzai aims to cultivate physician-scientists who seek to address from a pathophysiological perspective the questions and challenges arising from clinical practice to elucidate pathologic bases of diseases through basic and clinical studies. His encounter with the death of a patient with myocardial infarction in his third postgraduate year opened his eyes to research, which led to his finding that patients with myocardial infarction and elevated inflammatory markers are prone to cardiac rupture, an acute complication.
Professor Anzai has defied conventional wisdom with his research. Researchers in the United States and Europe had argued that patients with myocardial infarction and preinfarction angina had a poorer prognosis than those with myocardial infarction alone. Professor Anzai's perseverance, however, led to the finding that in Japan, patients with myocardial infarction and preinfarction angina have an overwhelmingly positive prognosis. "There is always a lot more to learn about cardiovascular medicine. While cardiovascular diseases may appear simple, research findings sometimes overturn common sense because there is no clear understanding of the causes of many diseases. Such findings make the research all the more rewarding," Professor Anzai says.

The Department of Cardiovascular Medicine is full of youth and vigor because 25 of its 40 members are graduate students. The students are engaged in research on subjects selected based on their clinical experiences in one of seven research groups: 1) arrhythmia; 2) heart failure and cardiomyopathy; 3) structural heart disease; 4) echocardiogram; 5) skeletal muscle in heart failure; 6) development of new therapies for refractory heart failure based on chronic inflammation control; and 7) cardiac CT, nuclear medicine and magnetic resonance imaging (MRI).
"A graduate student presented his research on the assessment of intracardiac pressure based on the stiffness of the liver at a conference in the United States. Interestingly, by applying vibrations to the liver during an MRI scan, you can calculate how stiff the organ is based on how much it vibrates," Professor Anzai says. "Another student is engaged in research on the pathogenic mechanism of atrial fibrillation using genetically modified 'knockout' mice. Yet another student revealed that myokines, which are secreted by muscles in response to physical exercise, act protectively on the heart. The best way for students to motivate themselves would be to select a research subject that will help them solve questions arising from clinical practice in their first year at graduate school."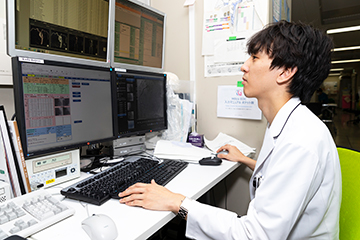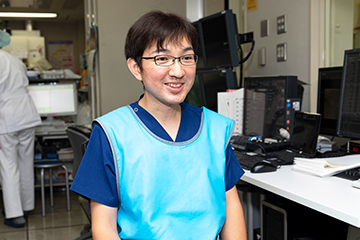 Professor Anzai, who recommends that students study abroad, says that he left for the United States without even waiting to earn a doctorate due to his insatiable desire to study overseas. "Studying abroad and getting married may be similar in that you need to feel compelled to do so," he says with a grin. "What I mean is that studying abroad requires that much commitment. Your experiences abroad will inspire you to review your clinical care practices." He pins his hopes on the initiative of young doctors.
(Interviewed in January 2020)
New minimally invasive therapies* :
MitraClip® (transcatheter mitral valve repair): A new mitral regurgitation treatment option, MitraClip is a clip device at the tip of the catheter that allows your mitral valve to close more completely, thus preventing the backflow of blood. Hokkaido's first MitraClip® procedure was performed in 2018.
WATCHMAN® (left atrial appendage closure): A new atrial fibrillation treatment option, the WATCHMAN® device is implanted at the opening of the left atrial appendage to prevent the escape of blood clots to the left atrium. Hokkaido's first WATCHMAN® procedure was performed in 2019.
HFpEF* (heart failure with preserved ejection fraction) : First recognized about a decade ago, HFpEF is a form of heart failure characterized by a preserved systolic function (left ventricular ejection fraction) and reduced diastolic function. HFpEF accounts for 50 percent of heart failure cases.
An event calendar of the Department of Cardiovascular Medicine

Each academic year begins with a welcome party for new students and a Hokkaido Nippon-Ham Fighters baseball game watching party (April). Three information sessions on the department are held between May and July. Thereafter, a myriad of annual events ensues: the alumni association's general meeting and lecture meeting (June), a BBQ party (July), the alumni association's golf tournament (August), an inter-medical office football competition (November) and an end-of-year party (December). The events reach their peak early in the new year, when members go on a trip to a skiing and hot spring resort, and the event calendar ends with a farewell party in March. Of course, members fulfill their duties as cardiologists by attending research meetings and workshops whenever they are held.