Department of Gastroenterology and Hepatology, Graduate School of Medicine, Hokkaido University
Naoya Sakamoto, M.D., Ph.D. Internal
Medicine
1987

: Graduated from School of Medicine, Tokyo Medical and Dental University

1994

: Research fellowship at Division of Gastroenterology-Hepatology, University of Connecticut Health Center, CT, USA

2006

: Associate professor at Department for Hepatitis Control, Tokyo Medical and Dental University

2012

: Professor/Chairman at Department of Gastroenterology and Hepatology, Hokkaido University Faculty of Medicine
Wide range of investigational approaches to address clinical problems in patients post hepatitis C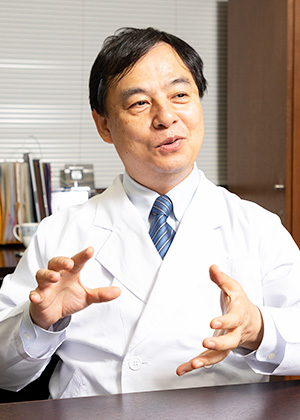 The Department of Gastroenterology and Hepatology has over 70 years of history dating back to its establishment in 1947. Under the leadership of Naoya Sakamoto, M.D., Ph. D. in his role as the fifth professor of the department, research groups are involved in advanced, specialized medical treatment and cutting-edge research in the basic as well as clinical medicine fields. These are the five specialized groups that cover the entire area of the digestive system—the Liver Disease Group, the Biliary Pancreatic Disease Group, the Chemotherapy Group, and the Endoscope Group and the Inflammatory Bowel Disease Group in the Digestive Tract Group—and one basic medicine group; namely, the Tissue Regeneration and Stem Cell Research Group.

The treatment of hepatitis C among other viral hepatitis infections, which are the most common cases of chronic liver diseases, has drastically progressed in the last several years. Now, almost 100% of hepatitis C patients can be treated with the administration of antiviral drugs that block the function of the virus without posing a burden on patients physically.

Professor Sakamoto has been involved in the research and development of drugs for the treatment of hepatitis C since he was working at Tokyo Medical and Dental University since 2000 till 2012. Back in those days, the technique of culturing hepatitis viruses in cells had not been established and the development of drugs to treat hepatitis C was slow. In such circumstances, Professor Sakamoto discovered a cell culture system that could successfully grow hepatitis viruses and thus significantly contributed to the subsequent development of therapeutic drugs (Fig. 1).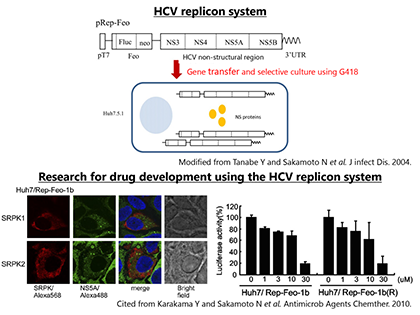 However, the professor points out, "We still have a mountain of challenges to advance research on hepatitis B, for which the types of drugs available are still limited, nonalcoholic steatohepatitis (NASH), whose incidence is expected to increase in the future, cirrhosis, liver cancer and other liver diseases."

"We are conducting research via various approaches in order to solve these problems. Our current major challenges include the development of a drug that can completely cure hepatitis B, whose incidence is high in Hokkaido, and the medical examination and treatment of patients with cirrhosis caused by viral hepatitis, NASH or other reasons. We are currently developing a biomarker technique that enables us to diagnose the progression and prognosis of cirrhosis through only a blood test without using the conventional method of taking liver tissue," he says.
Furthermore, in collaboration with the Tissue Regeneration and Stem Cell Research Group, Professor Sakamoto adds, the department is also involved in research on cellular therapy to treat cirrhosis using human amnion-derived mesenchymal stem cells. As the effectiveness of this treatment approach was proved in animal testing, the department is striving to further develop this for clinical application.
For liver cancer, for which the range of treatment options has expanded rapidly in the last two years thanks to the introduction of a succession of molecularly targeted drugs, the Professor continues, "We are conducting research to establish evidence on how and in what sequence to use these drugs, which have side effects and how effectiveness varies among individuals. Most recently, we have been exploring the possibility of cancer recurrence prevention treatment with the use of immune checkpoint inhibitors including Opdivo in addition to anticancer drugs."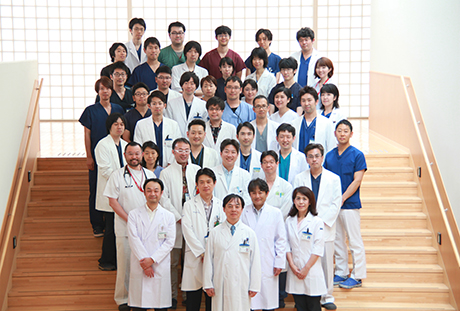 It is ideal if all the members come to school, engage in research and earn their degrees together.
The Department of Gastroenterology and Hepatology actively promotes not only basic research using cultivated cells but also the research and development of new therapeutic approaches including molecularly targeted drugs for cancer of liver, gallbladder and pancreas, which is considered the most difficult disease among the digestive disorders, with the use of organ tissue and cells collected through an endoscope or ultrasound-guided biopsy. The Liver Disease Group, the Inflammatory Bowel Disease Group, the Biliary Pancreatic Disease Group and the Chemotherapy Group are also involved in research on genetic diagnosis of various tumors of the digestive system.
Professor Sakamoto adds that intestinal flora (gut flora) is receiving special attention in gastroenterological medicine. With the use of next-generation sequencing that analyzes each one of some 3,000 stains of enterobacteria, the Liver Disease Group has collected tissue and stool samples from NASH patients in order to analyze the relationship between intestinal flora and NASH in terms of pathogenesis, treatment and outcome. The Biliary Pancreatic Disease Group and the Chemotherapy Group are in the process of verifying the effectiveness of intestinal flora in pancreatic cancer treatment. The Inflammatory Bowel Disease Group is also involved in research on the relationship between intestinal flora and colitis induced by immune checkpoint inhibitors.
Hokkaido University Hospital is one of the eleven designated core hospitals for cancer genomic medicine in Japan. Before the hospital's designation by the national government, the Chemotherapy Group had already started genomic research for digestive system cancer and is now in charge of the Hokkaido area of MONSTAR-SCREEN, a project for the genetic analysis of blood samples from cancer patients and for intestinal flora examination and research led by the National Cancer Center in collaboration with major cancer hospitals throughout the nation.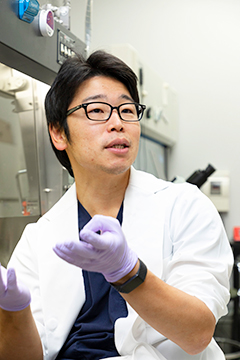 Many women play an active role in the Endoscope Group and other groups of the department. "Female predecessors who became medical specialists while balancing both work and family have a significant influence," Professor Sakamoto says. "If women's work responsibilities are reduced because they have to take care of their families, their careers will be limited. I am placing top priority on the development of environments where our members are surrounded by specialists who can be looked up to as career role models."
Dr. Taku Shigesawa, a member of the Liver Disease Group, is in the third year of graduate school and is studying the effects of a new medicine known as Lenvatinib on liver cancer stem cells. "It was known that Lenvatinib was more effective for more people compared with conventional anticancer drugs, but its mechanism was unclear. Then, I discovered that Lenvatinib had the effect of interfering with the growth of cancer by powerfully inhibiting liver cancer stem cells," Dr. Shigesawa says.
In addition to basic research, including that mentioned above, Dr. Shigesawa is also involved in clinical research to explore factors that predict the effects of new and conventional anticancer drugs by checking biomarkers through blood testing. He has submitted these research results to academic journals.
According to Professor Sakamoto, it is "only natural" for clinical doctors to go back to education and study at graduate school. "Our department promotes clinical science, which enables doctors to conduct research on what they have learned through their clinical practices and put research results back into their practices. Instead of focusing solely on providing medical services and procedures, clinical doctors are also required to have the knowledge of researchers to cope with ever-developing medical science, including genetic diagnosis, AI, and safer treatment techniques, so that they can academically evaluate new techniques and findings they encounter," Professor Sakamoto says. "Our department is based on graduate school education. For this reason, I consider it ideal for clinical doctors with certain years of experience to enroll in graduate school to conduct research together with other members and earn their degrees."
(Interviewed in October 2019)
Conference for young GI fellows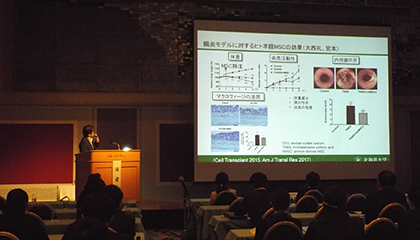 Since the days of the preceding professor of the department, Professor Masahiro Asaka, the members of the department always look forward to the annual conference for young GI fellows—an event in which senior residents and young doctors with several years of practice compete with each other in presenting their own clinical cases. Not only the selection of a case as the topic of the presentation, but also how well the presentation addressed its topic, and how well the presenter answered questions are evaluated. The most outstanding presentation speaker is awarded with a golden stethoscope from Professor Sakamoto. In addition, the Best Discusser Prize is given to the person who contributed to sparking discussion in the conference by asking a brilliant question that may be valuable or difficult to answer for presenters. "It is important that young people receive feedback regardless of whether it is positive or negative," says Professor Sakamoto.