Department of Medical Oncology, Graduate School of Medicine, Hokkaido University
Hirotoshi Akita, M.D., Ph.D.Internal
Medicine
1981: Graduated from Hokkaido University School of Medicine.
1987: Completed Hokkaido University Graduate School of Medicine (Doctor of Medicine).
1987: Studied at National Cancer Institute – Navy Medical Oncology Branch as a Fogarty Visiting Fellow.
1990: Appointed as an assistant professor and lecturer in the First Department of Internal Medicine at Hokkaido University Hospital.
2001: Appointed as the current professor of Hokkaido University Graduate School of Medicine (Department of Medical Oncology).
Based on the cancer genome analyses, we are addressing the study of innovative diagnosis and treatment.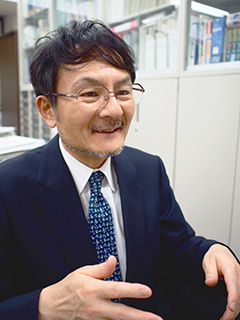 Cancer affects one in two Japanese and now it is considered a "national disease." Among cancer treatment methods, medical oncology in particular specializes in the fields of drug therapy and combined modality therapy. The Department of Medical Oncology, led by Professor Hirotoshi Akita, opened a laboratory in 2001; and in the Hokkaido University Hospital, Medical Oncology was established as a clinical department in 2004.
The main themes of our studies are: (1) a clinical study aimed at the extension of the indication of the HER2-targeted drug trastuzumab in non-small cell lung cancer and salivary gland cancer; (2) a study on the significance of HER2 driver gene mutation in non-small cell lung cancer; (3) a study on the development of individual treatment for unknown primary cancer by genome analyses including the next-generation sequencing analysis; (4) a study on the resistance to epidermal growth factor receptor (EGFR) inhibitors; and (5) a study on the development of useful molecular imaging for predicting the efficacy of cancer drug therapy. All of these research programs are the most advanced studies that are conducted in cooperation with the clinical departments classified by each organ and the laboratories of basic and clinical medicine, within and outside the university.
In recent years, in the field of cancer research, great advances in techniques for decoding DNA mean we can decode the cancer genome exhaustively by using the latest next-generation sequencer, and the pathophysiology of cancer has come to be understood in terms of correspondence with gene mutation in the cells. In the laboratory, we conduct experimental therapy including clinical studies and focus on the development of new cancer therapies. Major genes or molecular abnormalities that are associated with the cause of malignant tumors and the grade of malignancy have been revealed one after the other. By conducting clinical studies that apply this information to the diagnosis, treatment, and stratification of cancer, we promote next-generation cancer therapy, especially, the development of individual treatment. As a result of these studies, we have produced a number of achievements in clinical studies aimed at the extension of the indication of the HER2-targeted drug trastuzumab in non-small cell lung cancer and salivary gland cancer; and a practical application of the therapy in a few years is expected.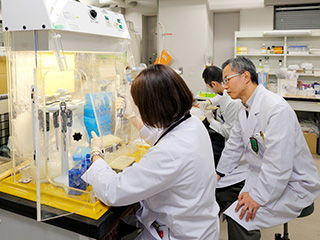 "At present, health insurance covers the cost of trastuzumab only in the treatment of breast cancer or gastric cancer. If this clinical study can demonstrate the efficacy in the treatment of lung cancer or salivary grand cancer and the extension of the indication of trastuzumab is approved, many patients can receive trastuzumab treatment that is covered by health insurance. Thus, our clinical studies have highly significant study themes that directly lead to patient benefits."

Clarifying the mechanism of cancer development and progression results also in the treatment of unknown primary cancer. Unknown primary cancer is a specific cancer in which it is not clear where the cancer may have started, while the metastasis has been found. A few percentage of the total number of cancer patients in Japan is said to be affected by unknown primary cancer.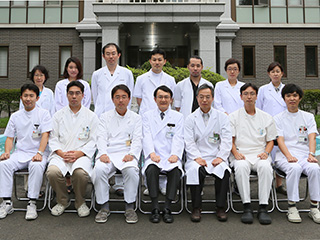 "Analysis of the genome can be used for an understanding of the features of each type of cancer such as lung cancer, colorectal cancer, and breast cancer, which leads to an identification of the primary organs. If the changes in the driver gene (which plays a direct and important role in the development and progression of cancer) characterizing the primary organ are found, drug therapy targeting the driver gene is applicable."
Genome analysis of cancer gene is expected to be an innovative technique that will bring new approaches for the diagnosis and treatment of cancer. In the Department of Medical Oncology, we are seeking to work closely with other departments, proceeding with our studies by building close collaborative relationships with basic studies and clinical studies.
Growing up to be world-class medical oncologists through frank and active conferences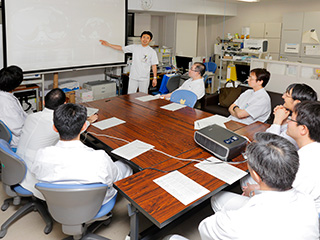 In the Department of Medical Oncology, we have three goals: (1) contribution to the development of oncology including overcoming cancer, (2) education of promising medical oncologists, and (3) perfection of treatment, and concentrating on research, education, and treatment. These three goals have a close relationship with each other. We discuss the question encountered in clinical practice and awareness of the issues through a conference held every week, and use the experience gained in our research activities. The research achievements are announced as progress reports and shared in all over the Department. The obtained findings are fed back to clinical practice.
"These activities motivate each member of the Department, and aim at cultivating a research mind and a clinical mind. The conferences play an important role as opportunities in which to exchange not only information but also free and vigorous ideas."
At present, our Department has 15 attending staff members. We have vigorous discussion every day in an at-home atmosphere. In addition, with other universities in the Hokkaido, the Graduate School of Medicine has been chosen for the " Promotion Plan for the Platform of Human Resource Development for Cancer" initiated by the Ministry of Education, Culture, Sports, Science and Technology in 2012. The Department of Medical Oncology takes charge of the "Front-line cancer drug therapy program," a Ph.D. program in the Graduate School of Medicine. We put energy into educating investigators of cancer drug therapy who have high research capacities and can understand community medicine for cancer.
Cancer is a disease that is associated with most clinical departments. In our Department, we are addressing the education of medical oncologists (Chemotherapy Specialists) who can provide organ cross-sectional, high level, and extensive treatment, who are experts in cancer drug therapy and combined modality therapy, and who can evaluate every type of cancer comprehensively. While our specialty is cancer drug therapy, additionally, we consider that we can provide high-level treatment by performing combined modality therapy in collaboration with surgery and radiotherapy.
(Interviewed in February 2016)
Hosted an academic meeting by gathering the world's top investigators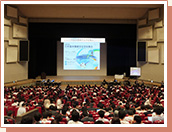 In July 2015, in the Department of Medical Oncology, we hosted the 13th Japanese Society of Medical Oncology 2015 Annual Scientific Meeting in Sapporo City. The theme of the meeting was "Fight against Deadly Cancer –Collaborations among Science, Cancer Care and Society-" and we took various approaches, including providing and sharing the latest global information. The key words themes were: the development of new drugs based on genome analysis; individual treatment; immunotherapy; and chemotherapy specialists. Including 400 participants from overseas (of whom 41 were invited speakers), the scientific meeting was held on the largest scale ever with more than 5000 participants.