Department of Hematology, Graduate School of Medicine, Hokkaido University
Takanori Teshima, M.D., Ph.D.Internal
Medicine
1986: Graduated from Kyusyu University School of Medicine.
1993: Kitakyushu Municipal Medical Center.
1996: Assistant professor in the Second Department of Internal Medicine, Okayama University.
1997: Dana–Farber Cancer Institute, Harvard University, United States.
1999: Research associate at Comprehensive Cancer Center, University of Michigan, United States.
2000: Faculty member of the Department of Internal Medicine, University of Michigan, United States.
2002: Assistant professor of the Department of Hematology, Oncology, Allergy and Respiratory Medicine, Okayama University Hospital.
2004: Associate professor of the Center for Cellular and Molecular Medicine, Kyusyu University Hospital.
2012: Appointed as a professor of the Department of Hematology, Hokkaido University Graduate School of Medicine.
Developing medical care by integrating basic and clinical fields, and connecting local communities and the world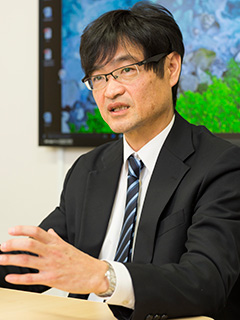 The Department of Hematology led by Professor Masahiro Imamura was established in 2012, following the consolidation and restructuring of the departments from the conventional numbering system (e.g. first or second internal medicine) to an organ-specific system (e.g. respiratory or gastrointestinal medicine). In August of the same year, Professor Takanori Teshima became the second generation to fill the leading position. Professor Teshima specializes in general hematological disorders such as leukemia, malignant lymphoma, and multiple myeloma. Of particular note, he engages in 40 to 50 hematopoietic stem cell transplants every year. As a researcher, he has been promoting studies on molecular pathogenesis, the diagnosis, and treatment of hematopoietic malignancy, and the sophistication of hematopoietic stem cell transplantation. Thus, he is playing multiple leading roles in the field of hematology research in Japan.
"In the current cancer treatment in Japan, a 'drug lag,' in which the world's forefront standard of care is still not available in Japan due to the time lag required for approval by the Ministry of Health, Labour and Welfare to use drugs in clinical practice, has been an issue. When I was appointed as a professor in this department, I set a goal of resolving the drug lag issue as much as possible."
The Department of Hematology engages in daily research activities with a desire to promptly incorporate the latest methods of treatment and deliver them to hematologic cancer patients. The two main directions of our research are taking the initiative in the development of new treatment methods, and introducing world-class research achievements to Japan by promoting cooperative clinical studies with research bodies around the world.
"For the development of new treatment methods, we are engaged in the development of a new procedure for bone marrow transplantation, which is referred to as a final treatment option for leukemia. Although bone marrow transplantation from a HLA-matched donor is necessary, a shortage of donors due to a declining birthrate has been a concern. In response to this, a new procedure that allows transplantation regardless of the HLA type has been under development in our department(*1)."
Meanwhile, in clinical research with worldwide collaboration, the Department of Hematology has participated in a number of studies, such collaborative study with investigative groups in the Europe and United States, and global clinical trials. Worldwide research collaboration enables us to be deeply involved in globally advanced studies, contributing to reducing the drug lag in Japan.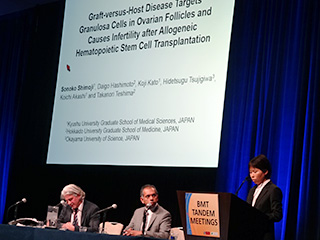 In 2012, the North Japan Hematology Study Group (NJHSG) was established mainly by the Department of Hematology in Hokkaido University Hospital and affiliated hospitals. Approximately 500 beds for hematology clinical practice were ensured and a cooperative system both in clinical and research practice was created. NJHSG has been producing evidence for hematologic disease treatment through clinical and basic studies, and practicing medical care that can disseminate globally advanced therapies across Hokkaido by proactively reflecting international clinical achievements.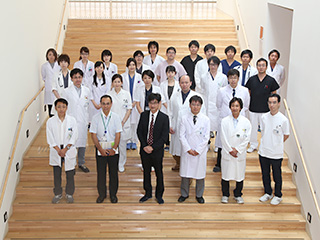 "Providing care for patients in clinical settings increases our motivation as medical doctors. We devote such motivation to basic and clinical studies, and fed the outcome of research back into clinical settings in local communities. Thus, basic and clinical practices, and local communities and the world, are integrated. We engage in medical practice with this comprehensive concept of medical care."
In addition, a remarkable growth of academic achievements over the last few years has been demonstrated through a wide variety of research topics in the field of hematology, as well as being awarded the Best Paper Award of the American Society for Blood and Marrow Transplantation for the second consecutive year.
Promoting development into clinicians with deep expertise and experience in an international environment for research and education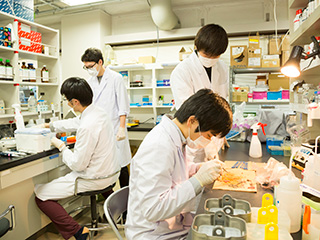 "I would like graduate students to carry out academically grounded research to become clinicians with deep knowledge and experiences," says Professor Teshima. This research and education environment is being expanded outward to the world through Professor Teshima's global activities.

"The department has accepted a lot of students studying hematology from all over the world. Interacting with these students enables us to learn from each other and be aware of the global stage. Furthermore, we invite professors of internal medicine from the Europe and United States, and host seminars in which we can learn directly from them. We offer an international learning environment even in our classroom and laboratory. This is an excellent environment that enables us to be involved in worldwide research on a daily basis."
Hokkaido University Hospital was the first core hospital promoting hematopoietic stem cell transplantation in Hokkaido, designated by the Ministry of Health, Labour and Welfare (there are nine designated facilities nationwide). As a part of the promotion project, the university offers master's degree programs for nurses and medical technologists who are interested in treatment for or care of patients with hematological malignancy.
"We are developing a multidisciplinary network for the purpose of information exchange, achieved through seminars for nurses, pharmacists, medical technologists, and patients. Involving patients in a systematization of the network can strengthen cooperation between clinical and research practice, and I hope that it will contribute significantly to future development."
(Interviewed in February 2016)
(*1)A study on the safety and efficacy of HLA-haploidentical stem cell transplantation with post-transplantation cyclophosphamide
A department that is open to the world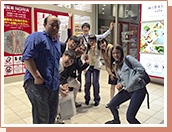 Many students, research scholars, and professors from overseas visit the Department of Hematology. This offers a great opportunity to encounter the perspectives of researchers on the world's front lines and the essence of their research. This is brought about by the network developed by Professor Teshima, who has engaged in cooperation and collaborative research with worldwide research bodies. Such opportunities for interaction have been a source of motivation that prompt awareness of a worldwide view and aim at nurturing globally leading research.