Department of Microbiology and Infectious Diseases, Graduate School of Medicine, Hokkaido University
Takasuke Fukuhara M.D., Ph.DPathological Science
Academic & Professional Experience
2004 : BA and MA in School of Medicine Kyushu University, Fukuoka, Japan.
2004-2005: Clinical resident Kyushu University Hospital
2005-2006: Clinical resident Saga Prefectural Hospital Koseikan
2010-2012 : Postdoctoral Fellow Department of Molecular Virology, Research Institute for Microbial Diseases, Osaka University, Japan
2010.3 : PhD in Gastrointestinal Surgery Kyushu University, Fukuoka, Japan
2010.4-7 : JSPS Research Fellowship for Young Scientists (PD)
2011-2017 : Assistant Professor Department of Molecular Virology, Research Institute for Microbial Diseases, Osaka University, Japan
2017-2020 : Associate Professor Department of Molecular Virology, Research Institute for Microbial Diseases, Osaka University, Japan
2020-present : Professor Department of Microbiology and Immunology, Graduate School of Medicine, Hokkaido University, Japan
Engaging in the latest research with a focus on viruses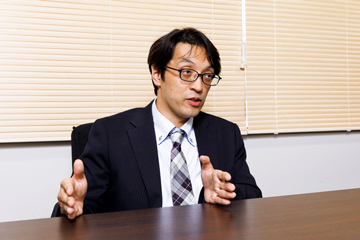 The Department of Microbiology and Infectious Diseases is a new laboratory established in May 2020. It has conducted research on Zika and other emerging/re-emerging viruses as well as on hepatitis B, C and other hepatitis viruses and new viruses involved in pathology. In recent years, it has also undertaken research on the novel coronavirus (severe acute respiratory syndrome coronavirus-2: SARS-CoV-2).
"Unlike bacteria that can grow when nutrition and other conditions are right, viruses are pathogens that can only grow in cells. They are very interesting as there are many aspects to them in terms of their proliferation, mutation and more. There are two types of research on viruses—immunology to study the immune functions of living organisms infected with viruses and virology to study viruses themselves. Our laboratory focuses on viruses, conducting research to elucidate infection, propagation, mutation and other mechanisms," says Professor Takasuke Fukuhara. Working also on many collaborative research projects with other laboratories of the School of Medicine, International Institute for Zoonosis Control and other institutions, the laboratory aims to contribute to the treatment and control of infections through prompt responses to emerging viruses and swift and accurate research to combat viruses that constantly undergo change.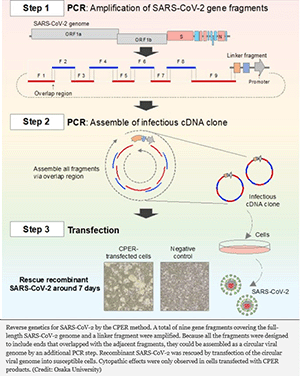 Virus research is conventionally conducted using a method known as reverse genetics (the artificial generation of complete viral particles using synthesized viral nucleic acids is also called reverse genetics) based on the gene sequence information of viruses. However, this posed an issue as only a limited number of researchers with expertise could artificially synthesize the coronavirus. This is because the procedure requires complex and advanced genetic engineering technology and takes several months to complete.
In collaborative research conducted with the Osaka University Research Institute for Microbial Diseases in 2021, Professor Fukuhara established and presented a new technology to artificially synthesize the novel coronavirus in just two weeks by using the circular polymerase extension reaction (CPER). Since this technology dramatically reduces the time needed to generate the recombinant virus, which once took several months, it will accelerate R&D on the novel coronavirus and enable prompt analysis of various mutated viruses emerging throughout the world.
"The CPER method applies the technology for studying flaviviruses, including the dengue virus, to the novel coronavirus." Our laboratory is committed to quickly applying the research results we have accumulated to different uses to keep pace with society's needs. We also present our research results through research papers and other media for use by research institutes throughout the world. The method is expected to be useful for research not only on the novel coronavirus, but also on unknown emerging viruses, since it makes it possible to create viruses easily and quickly anywhere as long as the necessary materials are available.
Gaining new experience in an environment different from clinical practice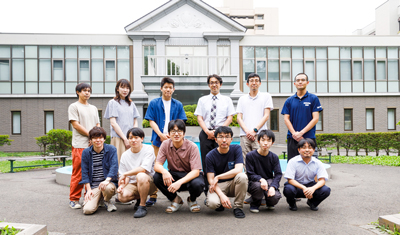 With Professor Fukuhara in his 40s and other staff members in their 30s, there is a youthful atmosphere throughout the department. In addition to those hailing from the School of Medicine, members from different backgrounds, such as science, veterinary medicine and engineering, come together to conduct research on viruses with multifaceted approaches while capitalizing on knowledge and expertise in their respective specialties.
"Some medical school graduates enter graduate school after working as a doctor for about ten years. This may seem like a late start for researchers, but some research questions only emerge as a result of their day-to-day experience in clinical practice, and I believe it is a tremendous advantage for them to be able to conduct research while remaining cognizant of their involvement in clinical practice."
Professor Fukuhara himself started his career as a researcher after working as a clinical doctor for approximately seven years. "I was over thirty when I entered graduate school and had little experience as a researcher. Since many people around me had devoted themselves to research, I was surprised by the differences in thinking and culture, but I also realized that there was research only I could do. Now that I lead the department, I once again feel the importance of having both people who pursue research and people with clinical knowledge."
Tomoya Saito, a first-year Ph.D. student, had worked for eight years as a gastroenterological surgeon before entering graduate school in 2022. Saito says, "I am conducting research on a new remedy for hepatitis B. I had some worries at first since I'm doing something totally different from my clinical practice, but I'm stimulated in many ways by spending time together with researchers from fields other than medicine. I'm also studying the relationship between hepatitis B and liver cancer jointly with the Department of Gastroenterological Surgery of Hokkaido University Hospital. Both themes are connected directly to clinical practice, and have given me a renewed awareness of their relationship with viruses."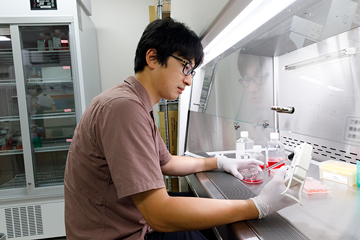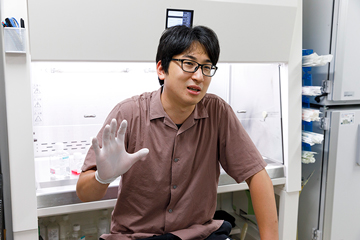 Professor Fukuhara expresses his expectations saying, "In Japan, where awareness of the risk of viral infections has not been as high as in other countries, many people are now aware of the existence of viruses because of the worldwide spread of COVID-19. To some people, virus research, which is different from medical research on humans, may seem like a bigger challenge compared with the work being done in other departments. However, I hope students who are interested in virus research will visit our department. I'd like to form the department together with them."
(Interviewed in August 2022)
Staff creating a comfortable environment where it is easy to concentrate on research with their own hands

The staff renovated the interior of the department themselves to create a bright and open atmosphere. There are PCs that the staff can use freely on the counter, and one of them is equipped with advanced analysis software, which can be used whenever necessary. There is also a lounge area where members can exchange information and communicate with each other.