Department of Cell Physiology, Graduate School of Medicine, Hokkaido University
Yusuke Ohba, M.D., Ph.D.Physiological
Science
1996: Graduated from Hokkaido University School of Medicine
1998: Basic medical research at the National Center for Global Health and Medicine
2000: Completion of Pathological Science Course, Hokkaido University Graduate School of Medicine
2001: Participated in the development of the FRET biosensor and research into fluorescence imaging as a research associate at the Research Institute for Microbial Diseases, Osaka University and a PRESTO researcher at the Japan Science and Technology Agency (JST)
2004: a research associate at the Graduate School of Medicine, the University of Tokyo
2006: Associate professor, Hokkaido University Graduate School of Medicine
2012 – Present: Professor, Hokkaido University Graduate School of Medicine
Engaged in research to discover the dynamics of signal transduction in living cells with fluorescence bioimaging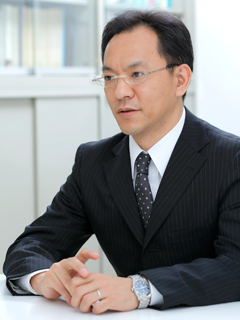 Cells contain an intracellular communication (or signal transduction) machinery in order to adapt to changes in the external environment. Intracellular signal transduction is maintained by precise regulation of changes in protein structure and enzyme activities through posttranslational modifications including protein phosphorylation and interaction between molecules. It is critically important for intracellular signaling to be strictly regulated in a spatial and temporal manner, thereby contributing to modulation of phenotypic changes in gene expression and cell morphology. The laboratory of Professor Ohba conducts research to discover the mechanism of this intracellular signal transduction by using fluorescence bioimaging technology.
"Fluorescence bioimaging is a technology that enables us to visualize intracellular signal transduction. Although immunofluorescence techniques with antibodies in fixed samples are widely used to analyze protein localization, we can now capture spatiotemporal information regarding not only protein localization but also their interaction, structural changes and activated status in living cells by using green fluorescent protein (GFP) and Förster/fluorescence resonance energy transfer (FRET)."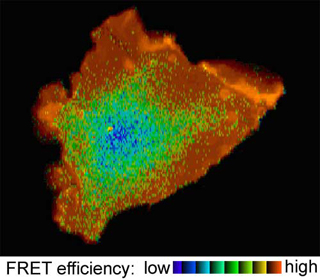 In 2010,the research team of Professor Ohba successfully developed a method for sensitivity testing of molecular targeted drugs for leukemia based on principles of fluorescent proteins and FRET in collaboration with the team led by Takeshi Kondo and Takanori Teshima, a lecturer and professor of Hematology at Hokkaido University Hospital.
Professor Ohba says, "This enables prediction of the effect of drugs before they are administered. This result is significant in that a technique formerly used only in basic research was applied to clinical settings for the first time."
Further, in November of 2013, the Ohba team discovered the mechanism of how influenza A viruses enter into cells, a discovery with a large impact in the medical world.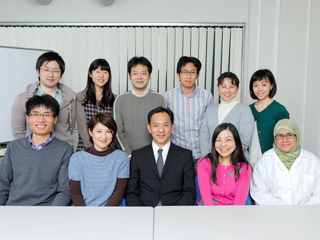 When a cell is exposed to exogenous factors, Ras, one of the major signaling factors, is activated, accelerating the process to uptake exogenous factors (endocytosis).We imaged the process through which dextran, transferrin, and the influenza virus particles became internalized into cells. We also established that a transient increase in intracellular calcium concentration upon influenza virus entry, chelation of which resulted in significant inhibition of internalization and infection of the viruses. We expect that this discovery will lead to the development of new therapies based on new concepts different from conventional anti-influenza treatments.
Basic medicine is interesting because it allows exploration of what we believe.
We aim at breakthrough discoveries and achievements that will defy conventional wisdoms on the medical field.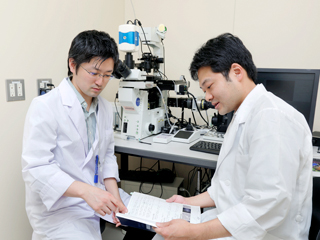 "A feature of fluorescence bioimaging is its ability to visualize phenomena as they are actually happening. Because cells are living entities, intracellular molecules including proteins will change during processes in response to stimulus. It is absorbingly interesting to be able to observe such processes right before our very eyes. There are only few medical laboratories that perform imaging with living cells. The attraction of this laboratory lies in allowing us to make investigations to discover the mechanisms of cell functions as well as the systemic dynamics of life in a manner that is unique to this area. If you are interested in fluorescence bioimaging, we will be happy to welcome you."
Another feature of our laboratory is that we have many young and talented people on the staff, with a variety of backgrounds. The laboratory staff comes from the faculties of pharmaceutical sciences, dentistry, science, and engineering and together we are tackling novel and innovative ideas and themes, mutually stimulating each other and harnessing our skills in our own strong areas.
"Basic medicine is a field that allows exploration of what you believe in, and taking it to the limits of the possible. We wish you to join us if your goals are to make groundbreaking discoveries in medicine or if you wish to produce achievements that will change the medical world."
(Interviewed in November 2013)
Seeing is believing
Imaging Boot Camp, here you can see, touch and feel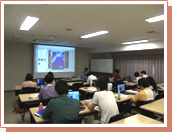 The "Imaging Boot Camp" is conducted by volunteers from the staff of the Department of Cell Physiology, and is a workshop where participants can experience basic technologies of bioimaging and develop an understanding of their usefulness. This is designed for students, faculties, and other researchers in and outside of Hokkaido University. In this camp, we will introduce experimental results and demonstrate how to operate the various devices and conduct experiments so that you can experience the reality of bioimaging. Previous participants have been surprised to see the color changes in fluorescence and became interested in this epoch-making technique. The Imaging Boot Camp is held once a year.