Department of Radiation Medicine, Graduate School of Medicine, Hokkaido University
Hiroki Shirato, M.D., Ph.D.Internal
Medicine
1981: Graduated from Hokkaido University School of Medicine, and joined the Department of Radiation Medicine, Hokkaido University School of Medicine
1987 – 1988: The University of British Columbia
1988 – 1989: The Christie Hospital, Manchester, England
1989 – 1992: Chief of the Department of Radiation Medicine, Obihiro-Kosei General Hospital
1993 – 2006: Lecturer, Assistant Professor, Hokkaido University School of Medicine
2006 – Present: Professor, Department of Radiation Medicine, Hokkaido University School of Medicine
(2011 – Present: Vice Dean, Hokkaido University Graduate School of Medicine)
Integration of Spot-Scanning Proton Beam Irradiation Technique and Real-time Tumor-tracking Radiation Therapy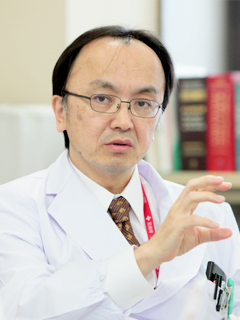 The Department of Radiation Medicine works to make discoveries and contribute to clinical use through incorporation of cutting-edge technologies of science and engineering, mainly in radiation medicine. The department is mainly organized around a "diagnostic radiology section" and "radiation therapy section". The former, diagnostic radiology section, focuses on research into diagnostic imaging using CT/MRI and IVR medical therapies treating diseases a catheter inserted in the blood vessel, and the latter, radiation therapy section, focuses on research into therapies treating cancers using X-ray and proton beams.
Under the Funding Program for World-Leading Innovative R & D on Science and Technology, which started in 2010, the Department of Radiation Medicine, led by Professor Hiroki Shirato developed an innovative radio therapy system, "Real-time Tumor-tracking Proton Beam Therapy System with Molecular Imaging".
This innovative system is developed based on the "Real-time Tumor-tracking Radiation Therapy", which in turn was developed by a team led by Professor Shirato in 1998, and the "Spot-Scanning Proton Beam Irradiation Technique", which Hitachi, Ltd., as the first in the world, applied to clinical use. "Real-time Tumor-tracking Radiation Therapy" identifies the tumor position using a gold marker inserted in the body using two X-ray fluoroscopes and enables irradiation of the moving target for only the moment when the marker is at the planned position. Human organs repeatedly shift or millimeters to centimeters due to respiration. However, with Real-time Tumor-tracking Radiation Therapy it has become possible to irradiate beams very precisely by identifying the tumor position with millimeter accuracy. This system has obtained a 100% international patent as a groundbreaking technology that drastically reduces the impact of radiation on healthy tissue, when compared with conventional X-ray therapy.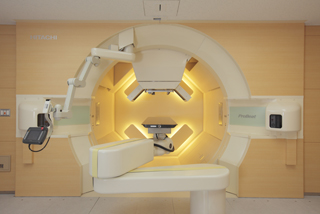 The spot-scanning technique uses a narrow proton beam that moves to pinpoint and irradiate tumors rapidly and accurately and it has the ability to adapt to the complicated shapes of a tumor, thus permitting high precision proton irradiation. The Department of Radiation Medicine engaged in the development of the "Real-time Tumor-tracking Proton Beam Therapy System with Molecular Imaging" by integrating the two technologies with Hitachi, Ltd. in a cooperative venture between industry and academia, and established the "Proton Beam Therapy Center" within the confines of Hokkaido University Hospital in the autumn of 2013."Because we have successfully reduced the size of the device, it is small enough to be installed in the premises of hospitals, and it can be installed in cancer treatment centers throughout the world. We expect that it will prove to be a driving force that makes the excellent medical technology developed in Japan commonly available worldwide."
Facing the difficulties of medical treatment boldly and with determination as researchers and physicians, valuing the principles of the department since its establishment in 1949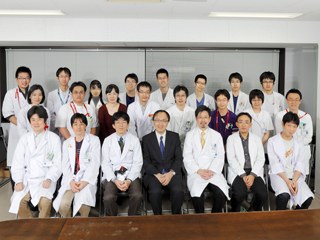 The Department of Radiation Medicine has a long history [since 1949]. During its history it has been led by four professors: Professor Wakabayashi Masaru, Professor Goro Irie, Professor Kazuo Miyasaka, and now Professor Hiroki Shirao in that order. "This department is based on the motto – never mimic others, never be influenced by insignificant value, and attending physicians must look at everything from the patient standpoint." Professor Shirato is in charge of medical care as the director of radiation department, and the chief of the radiation therapy section, and is a specialist of radiation therapy.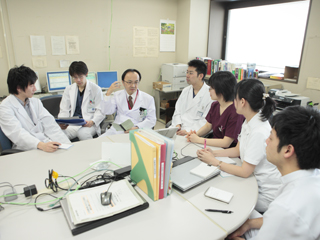 With the development of computers and modern medical equipment, specialists in the physics practiced in hospitals as well as physicians and engineers have become increasingly important to enable physicians to carry out their responsibilities. "Many physicians who are interested in applying discoveries in physical science and new technologies of engineering in the medical field are gathering in the field of this department. The number of physicians attracted by the technology to detect minute changes, even less than 1mm in an organ moving in the body and by treating diseases with 1mm accuracy in future medical care is increasing."
"Nurturing generous minds in the extensive campus of Hokkaido University, cultivating students to become talented physicians and scientists face to face with eternal nature, and training to become medical professionals who find it worthwhile to see patients smiling, we strive to fulfill our mission. We wish all young students interested in radiation medicine to join us."
(Interviewed in December 2013)
Enjoyable social events, such as New Year / Year End, and Genghis Khan parties, await you!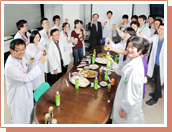 The Department of Radiation Medicine holds fun events jointly with the Department of Nuclear Medicine including New Year parties, a Year End party, and Genghis Khan parties (in early summer) of every year. Everybody, members of the medical staff and researcher enjoy the events held in a friendly atmosphere, forgetting the cares of busy days.